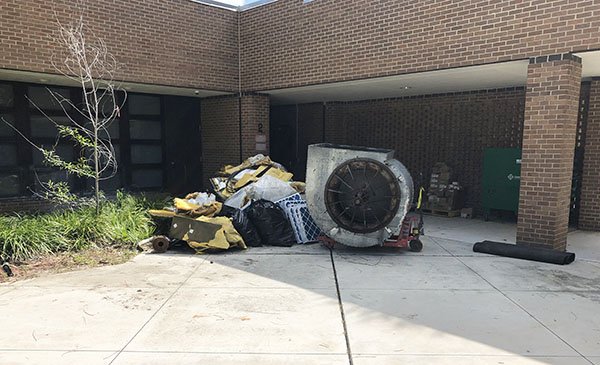 When students return to Cypress Trails Elementary School in Royal Palm Beach for the 2019-20 school year next month, they will walk into an almost totally refreshed facility. Just a few finishing touches will be done at night during their school year.
"This is the second summer in a row that they have worked on the school, and it is in the final stages of phase four of the renovation," Cypress Trails Principal Bruce Saulter said. "We're celebrating 30 years since the school opened in 1990, and many of the things have not been redone since the school opened."
The $8.1 million project is a total overhaul of the 95,000-square-foot school that sits on 20 acres in the southern portion of the community near the Royal Palm Beach Recreation Center.
"It is a complete refresh of the facility," Saulter said.
The funding comes from the 2016 one-cent sales surtax referendum, which is being used to refurbish schools throughout the county. School District Media Relations Specialist Julie Houston Trieste reported to the Town-Crier on aspects of the budget and some of the related costs.
She said that work on the school has included the building envelope with the goal of preventing water intrusion and waterproof applications to roof, windows and exterior doors, gutters and downspouts, and exterior finishes like the stucco; perimeter fencing; compliance with signage, CSIR and ADA regulations; replacement of custodial equipment; fire/life/safety electrical switchgear and alarm upgrades; and an emergency generator.
Additionally, students will notice new interior repairs like fresh paint and improvements like vinyl floorings, acoustical ceiling tiles, new classroom and media center furniture, new and improved intercom and sound systems, with $350,000 invested in new technology throughout the school and media center.
Students will not only see the difference, they will feel the difference with $2.6 million worth of work on a new heating, ventilation and air conditioning (HVAC) system, complete with new air handlers, chiller, controls and fans.
"It is a complete renovation for the air system and the air handlers," Saulter said.
Students will find new water fountains and restrooms with all new tiles and fixtures, plus new water and sewer lines, and even a boiler replacement in the kitchen.
On the playground, there is improved irrigation, refinished and rubber surfacing on play courts and new pre-K playground equipment. "They are resurfacing the parking lot and the physical education court," said Saulter, who added that the fresh blacktop will last for years.
New LED lighting is being installed throughout the campus on exterior walls, the parking lot and in classrooms. There have been repairs to the roof and the structural covered walkways.
Saulter noted that some final touches will be done after school starts, like the LED lighting.
"They work at night when school starts, so there's no interruption to the learning environment," he said. "It has been great teamwork between the contractor, the school district and the taxpayers who approved the funding for it."