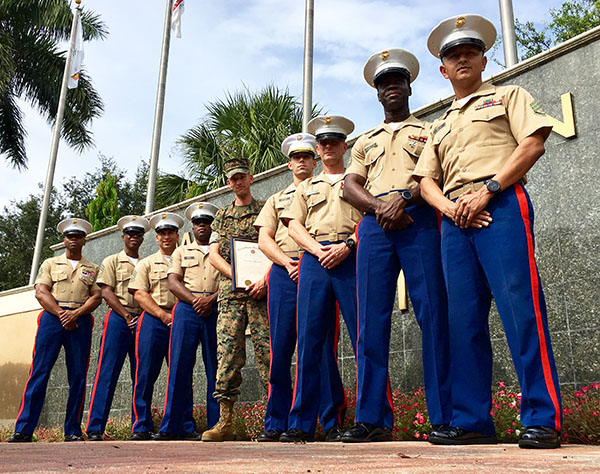 By Meredith Burow
Defying the muggy weather, more than three dozen people gathered at the Wellington Veterans Memorial on Thursday, Aug. 1 to witness Jonathan McLean's promotion to his new U.S. Marine Corps rank of gunnery sergeant.
While promotion ceremonies often take place in an intimate setting among close family and friends, McLean wanted to celebrate this milestone in the heart of his newly adopted community.
Having served 15 years with the Marines, Gunnery Sgt. McLean and his family have only been residents of Wellington for a few months, having previously been stationed in Okinawa, Japan. However, this local serviceman is not lacking in loyal supporters.
"It turned out fantastic," said Haley McLean, Gunnery Sgt. McLean's wife. "I mean, honestly, I wasn't expecting them to do this much for us."
At the suggestion of a family friend, Haley McLean contacted Wellington Mayor Anne Gerwig, inquiring about the use of the centrally located memorial for the occasion. Gerwig then contacted Michelle Garvey, the assistant director of the Parks & Recreation Department, who then helped organize an event that went well above and beyond what the family was expecting.
"I just thought we were asking for permission, and then she was like, 'We'll set up a tent. I'll contact the VFW to see if any of those guys want to come. We can set up chairs,'" Haley McLean recalled. "And at first I was like, 'Oh no, I don't think we need all of that.' But then I got to thinking. This is such an important time for my husband. And thank God for the tent, too."
Participation from the local government was only the first drop in the sea of community involvement.
As the Marine Corps canvassing recruiter for Wellington, Royal Palm Beach and Palm Beach Central high schools, McLean saw a significant number of his students and graduates in the audience that day.
"Just to see the impact that you can make on some of these kids and families and the community, in just that short amount of time, it's a testament to what we do as Marines," McLean said.
According to McLean, as gunnery sergeant, he is now the buffer between the officers and the enlisted men, or "junior Marines." He is, as he simplified, a "supervising manager" for his platoon.
"You're responsible for the welfare of your Marines, making sure that they're getting done what they need," McLean said. "And if anything happens with their families, you have to be able to take care of that."
The job also entails handling the administrative and logistical needs that the officers may not have time to meet, which is why McLean described a gunnery sergeant as being the "right-hand man to his lieutenant."
As far as McLean's day-to-day duties, he remains working with high schools in the western communities, being known to go the "extra mile" to support his students.
"I've seen Jon stay in the office until two in the morning waiting to process paperwork for a child," said Jana Rodriguez, a close family friend.
Rodriguez, a longtime resident of Wellington, believed so much in the importance of a dedicated local recruiter that she was instrumental in holding the ceremony so close to home.
As the aunt of a child who was, as she put it, on a self-destructive path until joining the Sea Cadets in high school, Rodriguez has seen firsthand the significance of a reaching, caring hand.
"Sometimes all the children need is a person who will go out of their way," Rodriguez said. "This is a guy who will go out of his way."
McLean's career has already come full circle, as he himself enlisted after a recruiter reached out to him.
"It's actually a funny story," McLean said. "We were sitting in class — it was my senior year in high school — and a recruiter came up to me. He set a business card on my desk, and it literally said, 'I challenge you to show up at this place at this time.' And he walked off."
"I'm never one to back down from a challenge," McLean laughed, "so I ended up showing up."
McLean said his recruiter did to him what he does to his future Marines.
"He showed me that I could be successful," McLean said. "He said my past decisions don't have to define my future. And he was right, you know, and I'm grateful every day."
Now as a gunnery sergeant, McLean continues to try to pay this courtesy forward, reaching out to young men and women interested in serving their country as United States Marines.