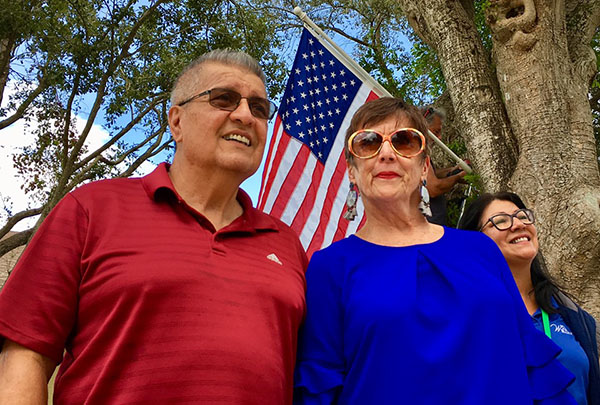 By Meredith Burow
An American flag that once flew over the U.S. Capitol now flutters from a knotted tree in a quiet Wellington neighborhood.
To thank U.S. Army veteran Cesar Cardona for his service to the nation, the Wellington Community Foundation hoisted the colors in his front yard on Tuesday, Aug. 13. In addition, the foundation took action to have his house painted at no cost to him.
Residents of Wellington for more than three decades, Cesar and Barbara Cardona had been wanting to paint their house for about a year, but they were hindered in doing so following Cesar's open-heart surgery in July 2018. In the meantime, they were required to stay up to date with Wellington's code compliance guidelines and had missed the mark in a few areas, one of which was repainting their house.
"When I met the compliance team, I told them, 'I'm going to do it. I know better than anybody else that I [have] to do it, but it's going to take me one wall a week,'" he said with a laugh.
According to his wife, a Wellington code officer was admiring their landscaping when she discovered that Cesar was a veteran. She informed them about the foundation's mission to paint houses and raise flags for veterans. The Cardonas soon became the second family presented with this honor.
"I'm speechless because I have never seen a community that cares so much for its population," Cesar said.
The Wellington Community Foundation's goal is to serve the seniors, children and veterans in the community. According to Board Member Maria Becker, following Wellington's dramatic expansion over the last couple of decades, too many people have "fallen through the cracks."
"Because of where we are, there aren't a lot of agencies helping out," Becker said. "People just assume if it's Wellington, then everyone is just doing well."
The mission of the foundation is to fill that need. In addition to painting houses and hanging flags, the organization has undertaken many other projects, such as providing children in need with backpacks for the upcoming school year, buying school uniforms, sending birthday gifts to the elderly and more.
"Our goal is to help those most in need," Becker said, "and we're concentrating on the kids, the elderly and on veterans."
The foundation is chaired by former Wellington Mayor Tom Wenham, a veteran himself who stood alongside the Cardonas as the flag was raised. He emphasized the importance of hanging the flag in order to signify dedication to the United States. "It shows our love for our country," Wenham said.
Wenham served in Korea during the Korean War, and though it ended more than 60 years ago, he still has to combat its lingering terror. "If you haven't been over in a war zone, you probably don't have the full effect," Wenham said. "I served with people who never came home, and that eats at me."
Though long retired from the military, Wenham continues to serve his country by serving his community, looking out for the needs of those who may require a little extra help… and perhaps some paint.