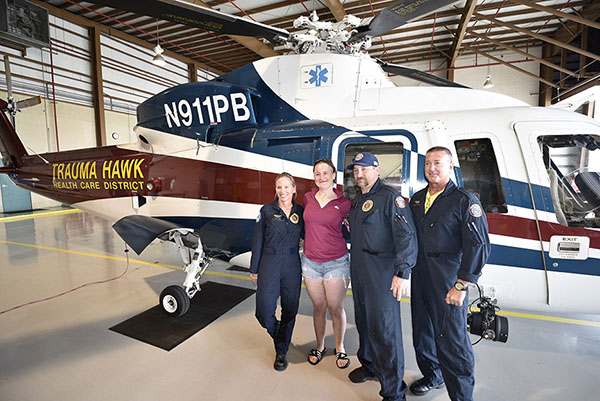 Morgan Temple remembers little about the moments after she was kicked in the face by a horse. What she will never forget is the lifesaving critical care she received from the Health Care District of Palm Beach County's Trauma Hawk pilot and Palm Beach County Fire-Rescue medical personnel who airlifted her to St. Mary's Medical Center.
On Wednesday, July 24, an emotional Temple and her parents met with pilot Michael Sievers, and flight nurses James Hahn and Lynn Yoos, to thank them for helping to save her life.
"I think it's extremely extraordinary, what these people do. It takes a very strong human being to be able to take care of people in the situation I was in," said Temple, who lives in Ontario, Canada. "I'm very thankful that I was able to come back and give my thanks and see the helicopter and meet the crew. It has really been a cool experience."
Temple's life changed in an instant on Jan. 5. One of the horses she was grooming at an equestrian show in Wellington became excited and kicked her in the face, leaving her with life-threatening injuries.
"She's my warrior," said Linda Temple, Morgan's mother. "Thank you doesn't seem enough to say to the Trauma Hawk staff but, from the bottom of this mom's heart, thank you to everybody. You guys are great. Keep doing what you're doing."
After her recent second round of facial surgery, Temple asked to meet the flight team and ground crew who rescued her. For the Trauma Hawk pilot, the reunion was moving. "It's great to meet her, and it's great to see she's doing well," Sievers said. "Hopefully soon she'll be back riding horses and taking care of them."
Despite her ordeal, Temple looks forward to returning to her work caring for horses.
"Morgan's gratitude was extremely meaningful for the crew members involved," said Gerald Pagano, director of aviation operations and the Trauma Hawk Aeromedical Program for the Health Care District. "Some of the crew said it was the first time they were able to meet someone they treated. Morgan is such a courageous young woman. To go through all that she did, and be willing to come back and say thanks, that was very special for us."