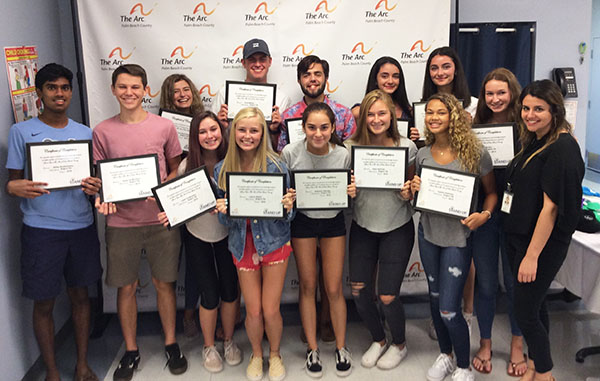 The Arc of Palm Beach County has developed a model to increase acceptance for people with disabilities.
Stand Up is a leadership training experience that matches high-performing teens with same-age peers at The Arc. Due to the mentor program's success, the nonprofit has been nominated for the Program Innovation Award and is leading the charge to get Stand Up implemented on a national level.
The Arc adopted the Stand Up program in 2018. Students undergo leadership and disability inclusion training and commit to at least 80 volunteer hours. They can serve in a variety of programs, including summer camp, career exploration, and at fundraising and awareness-building events. Stand Up members and graduates receive priority consideration for paid positions at programs offered through The Arc.
Since coming under The Arc's umbrella, Stand Up has doubled its membership.
"One of our goals at The Arc is to create positive experiences for the people we serve and open the minds of those who interact with them," President & CEO Kimberly McCarten said. "The Stand Up program has resulted in learning and growth for both the mentors and mentees. The interactions that happen in this program bridge differences, highlight varied communication styles and establish lasting bonds. This program is a model for how to build an inclusive community."
Stand Up members gain leadership skills and enhance their résumés, but the program's impact extends much further. These young influencers will take their experiences and connections with individuals with disabilities into the businesses and boardrooms of the future.
This unique program will serve as a catalyst for improved understanding and acceptance of people of all abilities.
The Arc is changing the conversation around disabilities by defying definitions, inspiring possibilities and improving the lives of the people. Since 1958, the organization has envisioned a community where every person feels welcome, connected and well cared for.
For more information, visit www.arcpbc.org.