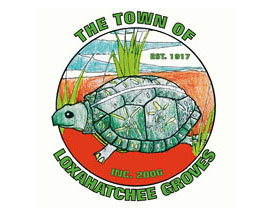 Planning Consultant Jim Fleischmann told the Loxahatchee Groves Town Council on Tuesday, Aug. 6 that seven proposed projects and amendments will be coming before the council for review in the coming weeks.
"There are two projects that are going to be submitting applications, very likely in the next week or two, and I just wanted to briefly go over those," Fleischmann said, explaining that his report that evening was for informational use only. "The first project is Groves Town Center, which you have seen multiple times. They're going to be coming in for a couple of changes to their conceptual master plan."
The existing plan for the 90-acre property has 34 acres of commercial use, 15 acres of commercial office space and 40 acres of institutional use, as well as 100-foot buffers around the project with an equestrian trail.
The commercial area currently includes an Aldi supermarket, Wawa convenience store and gas station, and a Chase Bank, which were recommended for approval by the town's Planning & Zoning Board in October 2018.
"In the new proposal, what they essentially have done is to realign some development pods to better fit the main markets for the different development pods," he said. "They've created smaller development pods in the commercial along Southern Blvd."
The developer has also moved a community area, formerly in the center of a roundabout south of Tangerine Blvd., where special events such as a farmers' market can be held, northward farther into the development site north of Tangerine Blvd.
"They felt the original location was not the most optimum place for that to occur," Fleischmann said. "It was right off Southern Blvd. with not much space for parking. They moved that up along Tangerine Blvd. and enlarged it."
The developer also created a designated wetland preserve that is proposed to be part of the master drainage and aquifer recharge area.
"I will state my personal opinion that this is a very large project and something like that very likely would not occur in smaller incremental parcels," Fleischmann said. "The fact that it is a big parcel gives the opportunity to really address some of the serious environmental concerns that the town faces and will be facing in the future."
The equestrian trail currently in the approved master plan will not be affected, and the smaller commercial pods are proposed for realignment to better fit in the master plan, he said.
A second 14.74-acre parcel at 444-556 B Road owned by Seth Brier north and west of Groves Town Center on the east side of B Road across the street from Palm Beach State College will come before the town with a proposal for multiple land use development.
"Back in 2016, the council passed an ordinance that allows all the properties within the area surrounded by B Road, Collecting Canal, C Road and Southern Blvd. to come in with applications for land-use changes to commercial, commercial low office, institutional or multiple land use," Fleischmann said. "There is an application that is going to be coming in within the next couple of weeks on this property for a multiple land use designation."
The applicant wants 7.2 acres of commercial low intensity use, 4.04 acres of commercial low office use, 2.5 acres of institutional use and 1 acre of conservation.
"The conservation is along the northern end of the property and is going to be dedicated for an equestrian trail that has the ability to connect into the trail at Groves Town Center, and it will allow access to B Road that is much safer than the current access in Groves Town Center, which is essentially right across from the Publix entrance," Fleischmann said. "This will allow access to the trail in Groves Town Center and access to B Road and the trail on the west side of B Road without having to cross at Publix."
Other applications in the pipeline include an application for potential redevelopment of the 19.5-acre Hot Shots Paintball property at 16169 Southern Blvd., a half-mile west of B Road; revisions to the 5.9-acre Palms West Plaza at 14579 Southern Blvd., west of D Road; a proposed open storage development on 47 acres north of Southern Blvd. and south of Collecting Canal between C and D roads; future land use, rezoning and site plan revisions to previous approvals on the 9.2-acre Southern Crossing property on Southern Blvd. between Loxahatchee Avenue and E Road; and a waiver of some conditional use requirements for a residential enterprise use on the 17.5-acre Ertle property at the southeast corner of Okeechobee Blvd. and F Road.