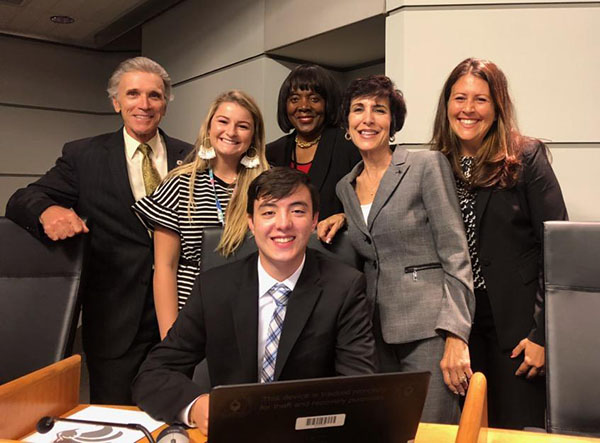 The newest face at the Palm Beach County School Board meetings is Royal Palm Beach High School senior Jaiden Manuel. He was elected as the Student Government Association (SGA) county president in April, which made him the official student representative at school board meetings.
Manuel started his official tenure at the Wednesday, Aug. 21 board meeting.
"My mission this year is to increase participation at these meetings by the schools in our county. With increased participation, we can set up a system of networking between the schools to pass on ideas that better each individual school, their communities and Palm Beach County as a whole," Manuel said at the board meeting. "By doing this, I hope that the leaders of each school find something that needs to be addressed within their respective schools, voicing their concerns to me so that I can then address it all to you here at the school board."
For Manuel, holding a student government office is nothing new. He was the student body president of his sophomore class and the historian for the student council during his junior year. Then he set his sights on the county-wide post.
"I decided I wanted to do something bigger than my school," Manuel told the Town-Crier. "The best experience I'm going to get is to sit on the school board and see how it operates."
For Manuel, SGA is all about growth and community involvement. This can be anything from a car show to a beach cleanup, and he feels it is never too early to get involved. He particularly likes to see middle school student council organizations represented.
"SGA seems like a lot of work, but it's a lot of good work. You are also joining a family, especially coming in from eighth to ninth grade," Manuel said. "If they come in already experienced, it will improve their high schools even more. They can build on that."
The county SGA's first meeting, taking place at Royal Palm Beach High School, will have more than 20 schools and 200 students in attendance. This is great, but Manuel still wants to see membership grow.
"If we can get five new high schools to join — like Wellington High School, for example — then, hopefully, that will bring in five middle schools," Manuel said. "The more schools we have involved, the more scholarships we can put together. Joining the county council means more scholarship opportunities for involved students and schools, networking opportunities, and we do workshops at every meeting."
Those workshops vary from how to handle stress to understanding personality traits and applying them to real life.
"At these student county meetings, we will have schools present resolutions on things can be improved or changed, and I can present them during the school board meetings. I'm the voice," Manuel said. "It feels good to be the voice."
These resolutions often address serious topics. Manuel expects issues such as teacher wages and school safety to be high priorities this year.
Manuel is also involved in other extracurricular activities. He is the co-president of the Interact Club, the sergeant-at-arms in the Math Honor Society, a member of the Chess Club and Health Occupation Students of America (HOSA). He plans to join the National Honor Society later this school year. His parents and family are proud of his new venture and look forward to seeing him grow.
One great asset he has this year is his SGA advisor, Chelsea Riddle. This is her first year serving in that position, but five years ago, she held the very post that Manuel is in now.
"[Riddle] is so helpful to me because she knows what it's like," he said. "She helps with putting together reports, contacting advisors at other schools and setting up invites."
For more information about the Florida Association of Student Councils, visit the Florida Association of School Administrators web site at www.fasa.net and look for the "Student Councils" tab.