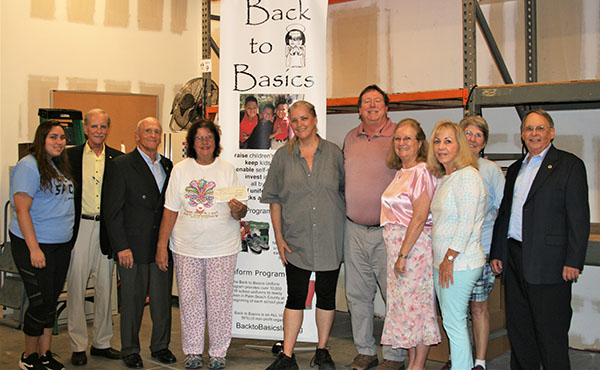 At the cusp of closing its doors, the Singer Island Sunrise Kiwanis Club, along with its nonprofit arm the Russ Corser Foundation, is celebrating a long history of success and positive impact by gifting the remaining money in the club's coffers to the local community.
On Wednesday, Aug. 7, Wellington-based Back to Basics was one of the nonprofits granted a special visit and a surprise check.
Back to Basics has been helping underprivileged children attend school in fresh new uniforms and providing thousands of kids with holiday gifts as well.
"We gave out about 600 uniforms that first year in 2000," Back to Basics founder Beverly Perham recalled. "This year, we distributed about 17,000 uniforms. Last year, we did 7,262 kids for Christmas, too."
The staff and volunteers at Back to Basics were shocked into silence as committee members from the Russ Corser Foundation handed them an unexpected check for $61,591.66.
"It has been a great run, and our part to go out and find nonprofits that don't have corporate backing was important," Russ Corser Foundation President David Behringer said. "We wanted to make a direct impact, and we have chosen yours for a donation. We wanted to make sure that we were able to bring a nice check."
The selection process included interviews and research on more than a dozen different charities, and the representatives with Back to Basics greatly impressed the committee with their dedication.
"We reach more than 50 schools in Palm Beach County," Board Member Kelle Enriquez explained. "Now we need groups or clubs to take names and adopt the kids for the Angel Program [for the holiday season]. Each pack provides sneakers, socks, underwear and a toy. If anybody wants to sign up, they can do it now."
Other organizations gifted funds from the Russ Corser Foundation included the Friends of Foster Children, Vita Nova, the VA Medical Center and one final scholarship to a local student. In all, nearly $200,000 was given away.
For more information on getting involved with Back to Basics, visit www.backtobasicsinc.org or call (561) 319-4277. The best way to reach them for questions, donations and requests is to e-mail info@backtobasicsinc.org.