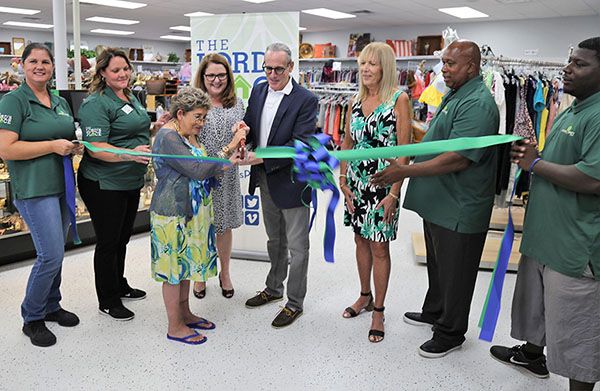 Community leaders, volunteers and patrons joined the Lord's Place in cutting the ribbon to open a second location for its Joshua Thrift Store on July 18.
Following the ceremony, tours of the facility, located in the Polo Marketplace Shopping Center at 750 S. Military Trail, Suite A, in suburban West Palm Beach, were provided and refreshments were served.
A grand opening celebration followed on July 20 with discount coupons given to the first 25 shoppers. Special discounts were provided throughout the day, along with free refreshments provided by the Lord's Place Joshua Catering Company.
The new Joshua Thrift Store location includes a donation center, e-commerce operations, a transitional work experience training center for clients, as well as a retail resale shop. All aspects of the operation support the Lord's Place social enterprise vision of "community supporting community."
Store hours are Monday through Friday from 10 a.m. to 6 p.m., Saturdays from 10 a.m. to 5 p.m. and Sundays from noon to 4 p.m. Donations are accepted Monday through Friday from 10 a.m. to 5 p.m. and on Saturdays from 10 a.m. to 4 p.m. Donations are not accepted on Sundays, and no drop off of donations outside of these hours is allowed. All donations of items are tax deductible.
All proceeds at Joshua Thrift's new location, along with the original store at 7600 S. Dixie Highway, support the life changing programs of the Lord's Place, helping the less fortunate in their journey out of homelessness.
For more information, visit www.thelordsplace.org or call (561) 494-0125.