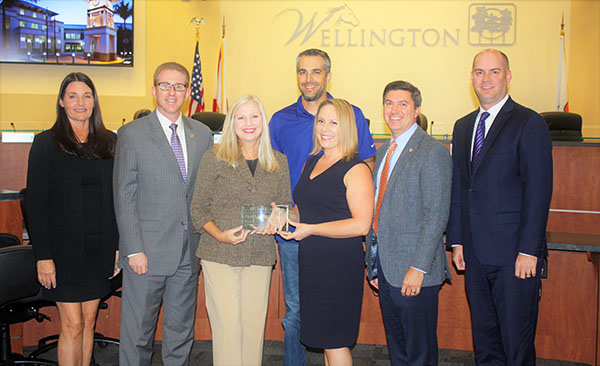 The Wellington Village Council approved a law enforcement services agreement with the Palm Beach County Sheriff's Office on Tuesday, Aug. 27 totaling $9,997,360 for the upcoming fiscal year.
The total includes a two percent increase over the current year, in addition to money for a staffing increase.
The two percent increase added $190,832.04 to the PBSO contract, while the additional staff added $264,925.96, for a total increase of $455,758.
The council heard from PBSO Capt. Rolando Silva, who described the Village of Wellington's 2020 Law Enforcement Service Plan and what had changed in the budget.
Silva's presentation focused on three main issues: vehicle crashes, juvenile matters and crime statistics.
Silva noted that two new deputies will join the department.
"One is a community service aide who is a traffic specialist," Silva said. "They are actually better at doing crash investigations than 95 percent of our deputies. This is exclusively what they do. So, when they show up on the scene, they are experts. I call them the 'force multiplier' because what they can do is free a bunch of deputies who are trying to manage the scene."
After a crash, the community service aide will do all of the follow up.
"When victims get transported to the hospital, they can do the investigations at the hospital," Silva explained. "We place a high emphasis on traffic crashes; reducing them and keeping them down. We think this asset of a community service aide will lend tremendous value."
Silva also hopes to reduce juvenile crime through effective supervision. The PBSO is aggressively checking up on juveniles who are on probation, visiting them at least once a month, he said. His office continues to use the juvenile arrest and monitoring (or JAM) deputy in order to keep the PBSO informed about juveniles on probation, ensuring they are monitored and giving them the best chance to succeed.
Property crime rates are trending down, Silva said, but vehicle burglaries remain a constant challenge. Business burglaries are down 86.9 percent, residential burglaries are down 47.5 percent and vandalism is down 7.4 percent, he noted.
Silva illustrated that by activating a combined effort of road patrol, street teams and community policing, Wellington can maintain its low crime rate. By using GPS technology, covert surveillance techniques, utilizing the tag-reader camera system, and developing crime mapping to focus efforts on neighborhoods and businesses where crimes occurred, it can give the village additional security to keep the crime statistics down.
"The reason we are sticking with this kind of approach is because it's working," Silva said. "If things are trending and going in the right direction, then we are going to keep doing the same thing. If it's not broken, we are not going to try to fix it," he said.
Mayor Anne Gerwig thanked Silva and his deputies for the work they do in the community.
"We do feel very safe here," she said. "But when something does go wrong, it almost strikes closer to our heart because we don't expect something to go wrong here. We appreciate the effort, but we've got to stay vigilant on all of it, especially the places that we know we have situations. There shouldn't be any place a resident of Wellington doesn't feel safe walking or being. We appreciate the extra effort."
Silva noted that no place is completely free of crime.
"Statistically speaking, we are one of the safest cities, villages, towns or places anywhere," he said. "We are just not completely immune."
Next year's PBSO budget and the law enforcement services plan passed unanimously.
In other business:
• The Palm Beach County Supervisor of Elections Office has requested that all municipalities move the dates of their municipal election to March 17, 2020. The council unanimously approved the first reading of an ordinance amending the municipal election date and qualifying period for the 2020 municipal election.
The amendment sets the Wellington municipal election for Tuesday, March 17, 2020. The qualifying period for candidates will be from noon on Tuesday, Dec. 3, 2019 to noon on Tuesday, Dec. 17, 2019. Two council seats and the mayor's seat are up for election.
• Village Attorney Laurie Cohen informed the council there was a new lawsuit filed by a group of Rustic Ranches residents against the village based on inverse condemnations. Inverse condemnation refers to a situation where the government takes private property but fails to pay compensation. Wellington and the Rustic Ranches neighborhood have been at odds for years over road maintenance issues.
• Village Manager Paul Schofield noted that he and his staff are keeping a close eye on the track of Hurricane Dorian and preparing the village for the storm's possible arrival. He urged residents to follow the village on social media for regular updates.