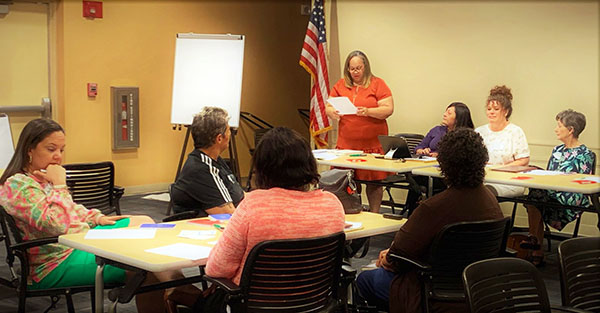 The Palm Beach County Advisory Commission on Women is hosting a series of listening sessions trying to gather information on important issues facing local women. Some of the topics discussed at a recent session in Wellington were employment, leadership, childcare and parenting.
The meeting was held at the Wellington branch of the Palm Beach County Library System on Thursday, Sept. 12. There is still time to get involved, with two more listening sessions scheduled for next week in Delray Beach and West Palm Beach.
Tammy Jackson-Moore, chair of the Palm Beach County Advisory Commission on Women, led the program.
"In February 2018, the Palm Beach County Board of County Commissioners passed a resolution that formed the Palm Beach County Advisory Commission on Women," Jackson-Moore explained. "The purpose of the commission is to be a resource for issues pertaining to women regardless of age, race, ethnicity and cultural background. They also want to make sure economic circumstances are not a hindrance for women in Palm Beach County. It was envisioned that this forum would help increase the interaction between organizations that work with women and serve our community."
The Advisory Commission on Women is made up of 15 members, and the group is studying matters facing women, like discrimination, employment, education, healthcare and homelessness. The goal is to find solutions that encompass empowerment for all women while promoting equal rights and opportunities.
The group also seeks to identify and honor women's contributions in Palm Beach County. They'll provide recommendations to county officials that they may take forward with legislation on the local, state and federal levels. The Advisory Commission on Women will also assist in implementing approved programs and disseminating information regarding resources, events and programs that involve women.
Currently, the group wants to continue to gather data not just from listening sessions but from other organizations that deal with women's issues.
"There are many organizations for women, and they are doing great work, but now we need to be able to share data," Jackson-Moore said.
At first, the Advisory Commission on Women focused on compiling data.
"In February 2019, we compiled information that we received from agencies that assist women in Palm Beach County," Jackson-Moore said. "We asked these agencies to provide us with the resources to help us meet our goals. Their responses have allowed us to identify the challenges that women face."
She asked attendees to share with the group issues that impact their daily lives.
"We want to hear your thoughts and hear your input. Your input will assist us in making recommendations to the Board of County Commissioners on how the county may address issues pertaining to socio-economic factors that impact women, and the solutions that we need to have in place to aid them," Jackson-Moore said.
The listening session consisted of identifying broad issues facing women, honing them down by asking a smaller group of women what they are feeling and might be facing in their own lives. The commission members wanted to know what suggestions the women had for improving and refocusing efforts. The event got underway by asking women to join small groups to discuss broader issues.
During the listening session, four women were grouped at a table. One matter discussed was small business development and funding entrepreneurs in order to build careers.
Bright ideas are one thing, but funding these ideas can be expensive for a start-up business, especially when student debt has hindered a credit score, participants noted. The women in the group felt funding women who want to begin a start-up business or expanding a business is important.
"Some women want to learn how to become entrepreneurs, but they don't know where to find the resources," one woman said. "In the community, the resources should be tangible."
"Listening to women is important, and the county government and municipalities should come out to meet women in the community to hear from women and their concerns by listening and having contact," another woman suggested.
"Women need training, opportunities, loans and resources," another woman in the group said.
The group agreed that there is work to be done when it comes to finding viable solutions for the challenges women face, but the Palm Beach County Advisory Commission on Women aims to be one more resource women should be aware of when it comes to solving the challenges they face.
Upcoming listening sessions will be held Tuesday, Sept. 24 at the Palm Beach County Library System's Hagen Ranch branch at 14350 Hagen Ranch Road in Delray Beach, and on Thursday, Sept. 26 at the Palm Beach County Main Library at 3650 Summit Blvd. in West Palm Beach. The meetings will run from 5:30 to 7:30 p.m. For more information, visit www.pbcgov.com/equalopportunity.