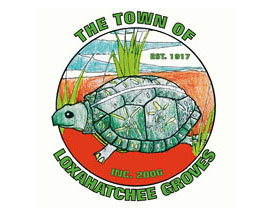 The Loxahatchee Groves Town Council approved an interim contract for solid waste collection with Coastal Waste & Recycling at a meeting Thursday, Sept. 19 after its current contractor Waste Pro withdrew from consideration.
"We were extremely grateful and recognize what an effort it was for Coastal to step up and start a contract on Oct. 1 that had been awarded to them just a few weeks earlier," Assistant Town Manager Francine Ramaglia told the Town-Crier on Wednesday. "It was a herculean effort. We're hopeful that the transition will be as smooth as they promised, and that the only change that the residents will see is the name on the truck and the customer service. Of course, we hope that the customer service is better."
The interim contract was brought to the council last Thursday as an emergency item due to Waste Pro's abrupt withdrawal. Ramaglia explained that the council had talked in May about a cooperative agreement with the Solid Waste Authority, but decided to seek a request for proposals (RFP), receiving two responses, the current provider Waste Pro and Coastal, which she said was offering a different approach to a service contract.
"The selection committee ranked Waste Pro number one but had a list of things to negotiate," Ramaglia said. "We met with Waste Pro; they were not negotiating. Their rate was $35.50 [monthly] with the existing cans, $37.60 with the new cans and a $42 rate with a one-year renewal, and they were not going to consider any of the negotiating items that the selection committee recommended."
One of the negotiating items was unlimited yard waste pickup, which Waste Pro had limited to 6 cubic yards. Residents have said that is a small amount for 5-acre lots.
The council directed staff to go ahead with negotiations with both Coastal and Waste Pro. Waste Pro, however, was not willing to talk about changes to its contract.
"We brought that back to the council and the council decided to award the RFP to Coastal," Ramaglia said. "We were to bring to the council the permanent agreement with Coastal, as well as an extension of the Waste Pro agreement for 60 to 90 days because there would be a transition time."
Staff was proceeding down that path and sent proposed agreements to Waste Pro and Coastal for review, but did not get a response from Waste Pro, which did not agree with some of the provisions, including unlimited pickup of yard waste, as well as shifting some of the clients to commercial accounts, which she said probably should have been there in the first place.
"We have not heard back from Waste Pro, so we had no choice than to put aside our permanent negotiations on the new contract, which we will now bring back on Oct. 3, and to go full speed into a temporary services agreement to replace the extension that we thought we were going to have with Waste Pro," Ramaglia said, explaining that the temporary agreement with Coastal is a mirror of the existing Waste Pro contract. "All it does is pick up the time from Oct. 1 until when a new contract can be implemented."
She said Coastal intends to start with the new contract as soon as possible. "They have prepared a postcard to go out to everyone in the community, based on the landowner list," she said. "They are putting a Spanish translation together as well. They have agreed that they will take some advertising or put some notices in social media and other venues, and they will also do a town hall in the first week of October."
She added that Coastal will have a fully manned customer service department on duty, as well as a devoted web site and e-mail.
"The rate that they are proposing to charge us is that which Waste Pro would have charged us, which is $42," she said.
Town Manager Jamie Titcomb said the interim contract would be from Oct. 1 to at most Dec. 31, when it will be replaced by the new contract unless it is finalized sooner.
"They will continue to mirror the current pickup days at a mirrored rate," Titcomb said. "We felt it was very important to negotiate and make sure that there was seamless transition to the citizens, and that their garbage and their waste got picked up and serviced without them having to adjust with practically no notice, which will give Coastal the ability to roll out the full community education campaign that goes with the new contract services."
Councilman Dave DeMarois made a motion to approve the interim contract, which carried 4-0 with Councilwoman Lisa El-Ramey absent.
Ramaglia said the new Coastal contract will be a new business model. "There's a lot of opportunity for us to better serve the community," she told the Town-Crier.
In other business, the council approved final reading of the town's $5.8 million budget for the new fiscal year with the tax rate remaining at 3.0 mills. The proposed millage rate generates property tax revenues of $1,012,998, which is an increase of $73,128 from fiscal year 2018-19.