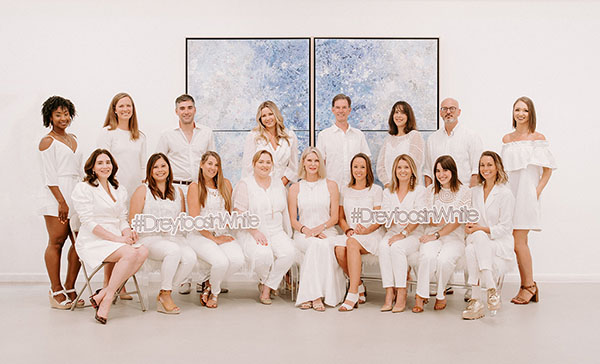 Plans are in place for Dreyfoos in White 2019 — a not-to-be-missed night of nonstop fun at a secret location to benefit the Dreyfoos School of the Arts Foundation. The committee has set Saturday, Oct. 19 for the event where partygoers dress in all white, bring a picnic dinner or buy to go dinners at several participating local restaurants, and bring creative table décor to compete for great tablescape prizes.
The secret location will be announced at 4 p.m. the day of the event, with the venue open for guests to claim and decorate their tables from 5 to 6 p.m., and the event beginning at 6 p.m. The Dreyfoos School of the Arts Foundation does the rest — providing tables, chairs and sparklers to light up the night. Dreyfoos in White features entertainment by students, as well as Dreyfoos alumni band Girlfriend Material.
The Dreyfoos in White prize drawing includes a seven-night stay for up to eight guests at the Luxe Mexican Resort in Cancun or Puerto Vallarta, a two-night stay plus airfare for two in Paris and a Palm Beach Staycation. Tickets are $25 each or three for $50 at www.soafi.org.
Event tickets for Dreyfoos in White are $55 and are now available at www.soafi.org with proceeds benefiting the Dreyfoos School of the Arts Foundation. Sponsor tables for ten are also available starting at $1,000.
The 2019 Dreyfoos in White Committee includes Bill Abel, Lauren Carey, Sarah Cooke, Darlene Dzuba, Tiffany Faublas, Bill and Wendy Fritz, Jessica Fontaine Swift, Heather Graulich, Allison Rogers Haft, Camila Helander, Nick Kassatly, Penny Koleos Williams, Veronica Lichtenstein, Jason Lowe, Jaye Luntz, Laura Nuttle, Amy Price, Kimberly Ramia, Alice Randolph, Sarah Turner, Bibi Van Arnam and Jessica Vilonna.
Sponsors for Dreyfoos in White 2019 to date include Akerman; Stuart and Allison Haft; Gail Hughes Galli; Peter Raimondi; George Elmore and Marti LaTour; Ballet Florida-Artistic Director Lauren Carey; Gil Cohen and Paul Gervais; HIVE; Cater and Alice Randolph; Sarah Cooke, president of SYCPR, and Nick Kassatly of Brown Harris Stevens Palm Beach; Ronald and Leslie Schram; and Josephine Wurster, along with Empire Office and Florida Financial and Insurance Services.
Funds raised through Dreyfoos in White help support vital educational programs. Last year, the Alexander W. Dreyfoos School of the Arts Foundation provided $1.2 million in support to the school. Follow hashtags #dreyfoosinwhite and #DIW2019 for details, call (561) 805-6298 or visit www.soafi.org.