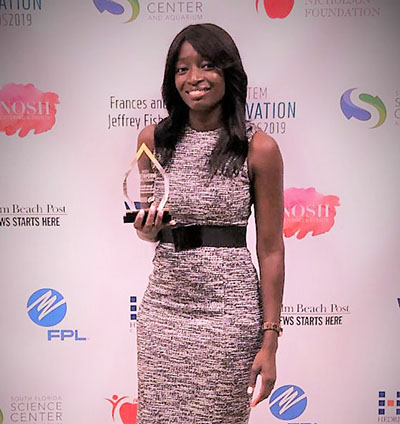 When a teacher has an enthusiasm for her craft, the children know. Syndie White, a third-grade math and science teacher at Elbridge Gale Elementary School in Wellington, demonstrates that having a passion for teaching inspires children to critically think and solve problems while increasing their love for learning.
The Palm Beach County Council of Teachers of Mathematics recently presented White with the 2019 Elementary Math Teacher of the Year Award. The South Florida Science Center, meanwhile, presented White with the 2019 Educator/Collaborator Award on Saturday, Sept. 7.
White, a national STEM-certified teacher, has been working at Elbridge Gale for five years. In the first four years of her tenure, she taught math to fifth graders before moving on to her current assignment.
Holding a master's degree from Lynn University, White believes that every child can excel in science and math.
"I never walk into a classroom and say to myself, 'She's not going to pass.' I have always had an expectation that every child will pass. Telling my children that they can do it and encouraging them to succeed is my model," White said. "So many kids have such great anxiety over math and science. I want everyone to leave my classroom knowing that they are a math person or a science person."
White achieves her goals by making sure that the children have several fun and wide-ranging pathways to learning.
"School should be exciting. There are different levels of achievement. I don't teach with worksheets. We play games. We do activities. We talk. We move around a lot. We do stations. We use technology. We build. This, to me, is what teaching is. It is making the kids look forward to coming to school each day. They don't know what I have in store for them," White explained.
Three years ago, White founded the Elbridge Gale Elementary School Young Engineers Club. She volunteers her own time during her planning period each week to conduct activities for the club.
"The club allows our children to be creative. You give them a problem, and they have to solve it with creative solutions," she said. "I may ask them to build a bridge that can hold a five-pound book. They have to think critically. They have to research, design, plan and execute. If it doesn't work out, they have to build it again. That's what engineers do."
White believes it opens up a whole new world by teaching math and science together. She is able to teach a math lesson with science. She can talk about math and science at one time. This often teaches students about the real world.
"Like it or not, the jobs that are here today, may be gone. We are preparing them for jobs that don't exist yet," White said. "We are preparing students to think critically so they can contribute to society."
Helping children excel in math and science means finding out what works for each individual student.
"Every child is different. Everyone learns differently. You have to look at the individual child and embrace the talent in them," White said. "They may not do well on tests, but they can verbalize for you what they are going to do. It is so important to think that every child has a gift. We tend to not look at children if they are not high performing. We don't honor the different gifts. We label them and put them in a box. Every child needs to succeed."
White feels that she has a calling to teach. After she lost her mother at an early age, it was her teachers who cared for her like her mother and encouraged her to succeed.
"Teachers gave me the affection I needed. So, for me, in the classroom, I am always saying, 'I am this teacher.' I have the ability to build someone up who may not be getting this at home," she said. "I can help to make someone feel special who may not feel special. In math and science, it is a place where all kids can excel. Everyone has ideas in their brain. I just love being in the classroom to inspire kids."
Principal Gail Pasterczyk has been with Elbridge Gale since it opened. Among her top priorities has been to make it a school with a focus on science, technology, engineering and math (STEM).
"STEM education is not only important to Elbridge Gale, but it provides students the opportunities to develop the skills that will make them successful in today's society," Pasterczyk explained. "It focuses on collaboration, creativity and problem solving with a group of people. When they are presented with a problem, they work together. They solve it; they brainstorm their ideas and communicate those ideas to others. These skills work beyond just a great education."
Pasterczyk is pleased that she has been able to put together a team that includes top-performing teachers such as White.
"From the very beginning when we did interviews, we looked for teachers and staff who would dedicate themselves to excellence. I was able to hire teachers who were superstars," Pasterczyk said. "Syndie White ignites that passion for learning and exploring. She brings it to life. She creates enthusiasm for the subjects she teaches. This passion comes from her."
To see some of White's classroom lessons in action, follow her on Twitter at www.twitter.com/mrs_whiteeges.