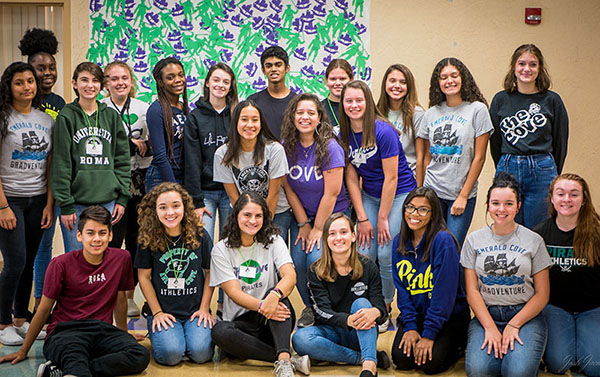 A chaotic calm weaves its way through the rows of bright green baskets and black pirate hats lined throughout Emerald Cove Middle School's cafeteria as eager young voices echo throughout the space. A collection of inquisitive wonder, positive energy and, at times, nerves mix within the room.
At each basket sits a group of elementary school graduates interacting with one another. Despite their varying elementary school attendance, these wide-eyed youngsters all share one thing in common: to become a "Mighty Pirate."
Emerald Cove Middle School, home of the "Mighty Pirates," prides itself on establishing a caring and positive atmosphere for all students. Middle school serves as the foundation-setter for high school and beyond, and the transition from elementary school to middle school can often be complex, and students often feel a multitude of emotions, ranging from anxiousness to excitement. Despite preconceived notions of the middle school transition, Emerald Cove Middle School's Pirate Prep School program has defied the odds for the last 13 years, giving incoming middle school students the chance to alleviate some of their worries and further fuel their excitement toward being part of the "Pirate Nation."
Pirate Prep School, founded in 2008, is a three-day camp run by students, for students. What had initially been 55 students and 12 leaders has grown to 368 students and 120 student volunteers in 2019. The school's motto can be reflected within this rise in involvement, as Emerald Cove students embody the characteristics associated with being "one for all and all for one." These student leaders devote their time and passion for the purpose of making the camp and its activities increasingly beneficial each year. Each year, more high school students are volunteering to help. What makes them come back? An honest answer could be community service hours, but many of them say otherwise.
"I decided to volunteer because I enjoy giving back to the community, especially my previous school," Palm Beach Central High School freshman Tori Labeau said. "Witnessing the kids' faces light up with joy as they opened a locker for the first time or decorated cakes. Making them feel welcome and comfortable whilst transitioning to a new environment is something you can't experience anywhere. They go from scared to excited, they make friends, and they feel like they belong."
Not only does Pirate Prep School have a lasting impact on incoming Pirates, it inspires those who have already graduated from middle school to help others. Emerald Cove alumni can instantly relate to the feelings they had when first entering the school, which makes the experience much more personal for both campers and volunteers.
"I came to Emerald Cove Middle School one month into my eighth-grade year and didn't know many people, but everyone was very welcoming and made coming to a new school fun and easy," American Heritage School senior Harshini Oruganti said. "I've made friendships that have lasted all throughout high school. I wanted to be a welcoming figure for incoming sixth-grade kids who are going through what I did and help and guide them."
Janell Leatherman, Emerald Cove's seventh grade counselor, has been involved with Pirate Prep School from the very beginning.
"The greatest aspect of the camp is seeing our incoming sixth graders being welcomed into our pirate family by current students, former students in ninth through 12th grades, some college-age students and even adults," she said.
A common mindset held by many of Pirate Prep School's high school volunteers centered on one common theme: giving back to their school.
"I wanted to come back and make a difference for incoming sixth graders. I remember how nervous and scared I was for middle school, so I wanted to help them feel welcome," Atlantic High School freshman Kyra Howell said.
Pirate Prep School exemplifies what continues to make Emerald Cove a supportive, friendly, caring and giving environment for students, staff and faculty. Whether students are opening lockers, making "egg ships," sitting with their friends and group leaders at lunch, or participating in a full six-period rotation, incoming middle school students are given the opportunity to learn about their school, their peers and themselves. It is through the generosity and kind hearts of current students and returning high school students that allows these students to feel safe, secure and comfortable at their new school.
The Emerald Cove faculty and student body consistently serve as supporting figures for all students, fostering a sense of community and acceptance. Pirate Prep School gives alumni the opportunity to return once again to the event that helped shape their middle school careers. These alumni, with their kind hearts and willingness to help other students who are in the same position they were in before, truly embodies an idea that Emerald Cove prides itself upon: "Once a Pirate, Always a Pirate."
Written by Kenjela Mullings (Grade 12, Suncoast High School) and Brielle Young (Grade 11, Palm Beach Central High School).