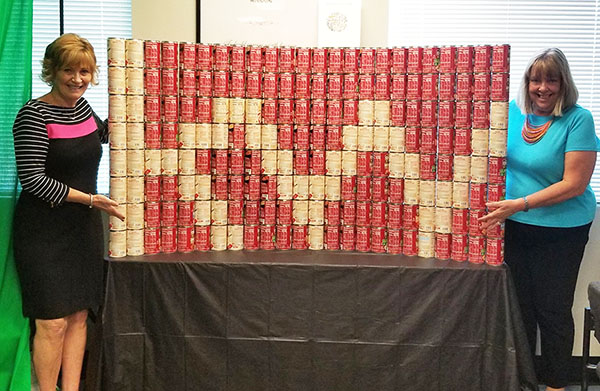 During the month of October, the agents at Keller Williams Wellington have been fiercely competing to see who can collect the most non-perishable food. The contest will culminate on Thursday, Oct. 31.
No matter which team of agents wins the contest, the Food Bank of Palm Beach County will be the beneficiary of this food, and hungry people in the community will be the true winners.
"We decided to do the food drive for the month of October, so that we can stock our local food banks and pantries in time for the holiday season," explained Nancy Jennings, broker at Keller Williams Wellington. "And, after Hurricane Dorian, we realized that many Bahamians were relocating here to Palm Beach County, and they would be in need, too. What could we do to help them, and how could we reach them?"
The answer was to donate to the Palm Beach County Food Bank, which collects and distributes food to nearly 130 partner agencies, such as pantries, soup kitchens and residential facilities. "PBCFB would provide the distribution system, if we provided the food," Jennings said. "Our Keller Williams Wellington could certainly collect and donate the food, and they always love a good contest!"
The 218 agents in the office were divided up into eight teams, and the contest started on Oct. 1. By mid-month, the tables were overflowing with food. Some teams even came up with creative ideas to inspire donations. For example, Bill and Linda Brennan designed and built a wall of soup cans. In the center of the design is a big, red KW, to represent the Keller Williams logo.
For information about this food drive, or to contribute, call any Keller Williams Wellington agent or call the office at (561) 472-1236.