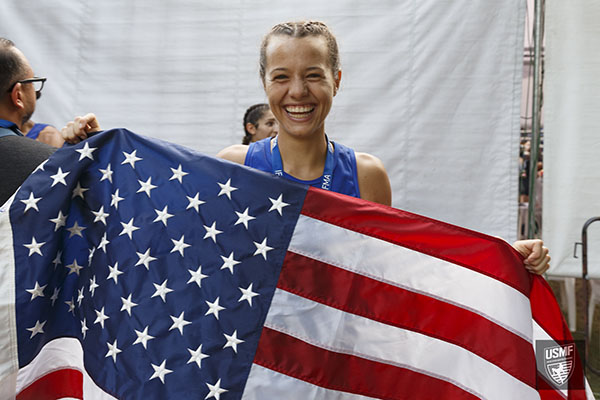 BY MEREDITH BUROW
At 20 years old, Coral Carnicella is already an international sensation. The Loxahatchee native competes in Muay Thai, a specialized form of martial arts that originated in Thailand more than 300 years ago.
Muay Thai is often called "the sport of eight limbs," where practitioners utilize their fists, elbows, shins and knees in combat. This year, Carnicella represented the United States at the annual World Muaythai Games, punching, kicking and elbowing her way to the gold medal match.
Perhaps bigger than her final fight for the gold, however, was Carnicella's battle against Thailand's Yadrung Tehiran, one of the nation's most supported champions. As this year's games was held in Bangkok, Thailand, Carnicella was not only competing against a well-known name in the sport, but in its country of origin as well.
"She would fight right before me every time," Carnicella recalled. "I'd sit there and watch her fight, and I was like, 'Oh my gosh, I don't know how I'm going to beat this girl.'"
Yet in a stadium erupting with relentless Thai enthusiasts — screaming, cheering and beating drums for their combating countrywoman — Carnicella found herself standing upright in the ring, breathless but victorious.
"I ended up crying in the ring like a drama queen," Carnicella said. "I couldn't sleep the whole night. I was so excited."
While Carnicella later lost the gold in a narrow match against Russia, her aggressive fight against Thailand earned her the highly esteemed silver medal, along with permanent standing as the second A-class USA fighter to beat a Thai at the World Muaythai Games.
The first was Asa Ten Pow, Carnicella's coach.
Ten Pow is the owner and head coach of the Florida Kickboxing Academy (FKA), a multi-martial arts gym in Riviera Beach, where Carnicella trains about four hours a day.
"Coral's there every day, sometimes twice a day," said Tavia Roman, Carnicella's friend and Ten Pow's girlfriend. "My boyfriend the same. So, I try to go as much as I can, too, and spend as much time in the gym as I can with both of them."
Roman is also a student at FKA, and Muay Thai is an easy way for the girls to spend time together, especially since most of Carnicella's free time is spent training.
Adding to her already cardio-packed 24 hours, Carnicella typically runs about six miles, five days out of the week. That excludes Sundays, of course. Sundays are for hill sprints.
"For the most part, the only way people get to hang out with her is if they train with her," said Carnicella's mother, Norma Jean. "They have to go running, go run sprints or some kind of stretch class with her to get her time."
She, herself, recently had to run stairs with her daughter in order to gain some quality time.
Judging from Carnicella's dedication, you may think she was always addicted to Muay Thai, but Carnicella actually began her athletic career as a competitive cheerleader.
Doubling the use of her cheer practice tumbling mats, Carnicella and her two brothers created the ideal setting for their childhood wrestling matches. After recognizing her knack for throwing high kicks against her siblings, however, she set out in search of a harder-hitting sport. The rest is history.
Though the Thailand games was Carnicella's biggest competition yet, the fight started long before she stepped foot in the ring. According to Carnicella, unlike her compensated contenders from other nations, the Carnicellas had to pay their way — about $5,000 total.
"For us, we're just fighting because we love it, you know?" Carnicella said. "Other countries, they're fighting because that's how they're going to pay for their lifestyle."
Carnicella is currently working toward becoming a professional fighter, meaning that she, too, would be paid to do what she loves. But first she has to find the right contract. She is also looking forward to the possibility of fighting at the 2024 Olympics, should Muay Thai continue on its current path to being officially recognized as an Olympic sport.
In the meantime, Carnicella is working toward a career in the lifesaving business, recently finishing paramedic school. She eventually wants to go on to be a firefighter paramedic, but that's another line on her to-do list.
Her love for Muay Thai, juggling school, intense training and competing has resulted in social sacrifices the average 20-year-old doesn't have to make. But according to the young fighter, it's worth it.
"I feel like I'm not going to be saying, 'Man, I wish I would've went out and partied with my friends more,' or, 'I wish I would've given this guy more time of my life' when I'm 50 years old," Carnicella said. "But I'm definitely going to say, 'Man, I wish I would've gotten a gold medal.'"
Until then, silver is a start.
To follow Carnicella's Muay Thai career, find her on Instagram at www.instagram.com/coralbean.