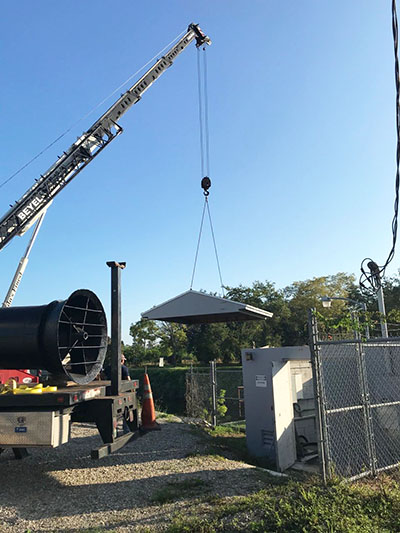 The Town of Loxahatchee Groves had its newly rebuilt and updated canal pump reinstalled and completed on Tuesday, Oct. 22, in time for the dry winter season, which is expected to begin on Nov. 1.
"It was completed yesterday," Town Engineer Larry Peters told the Town-Crier on Wednesday. "We just have to tweak it a little bit."
The rebuilt pump includes a new 150-horsepower electric motor with a remote self-start so that a staff person does not need to come out and start it manually. The new system is regulated by a float on the canal that engages the pump during low electric demands when the canal falls below a certain point.
"There's a timer to ensure that you're not running it during Florida Power & Light's peak hours, so it's genuinely automatic," Peters said.
The F Road pump is the town's sole source of water to keep the canals filled during the dry season. The Loxahatchee Groves Town Council approved rebuilding and restoring the pump in August at a cost of almost $50,000. The pump was removed in September for rebuilding.
No one seems to know when the pump was first installed or when it was last rebuilt. The old system had to be started manually, which involved having a staff member come out and start the pump during low electric demand hours.
"We just put it back in yesterday," Mayor Robert Shorr told the Town-Crier. "That's kind of important. After God knows how many years, we have a new pump and motor and starting system. I'm excited."
The forecast for South Florida's dry season by the National Weather Service is for a hotter winter than normal, with mixed predictions on the amount of rainfall, coming off a drier-than-usual summer rainy season, which has left water levels in Lake Okeechobee lower than desired.