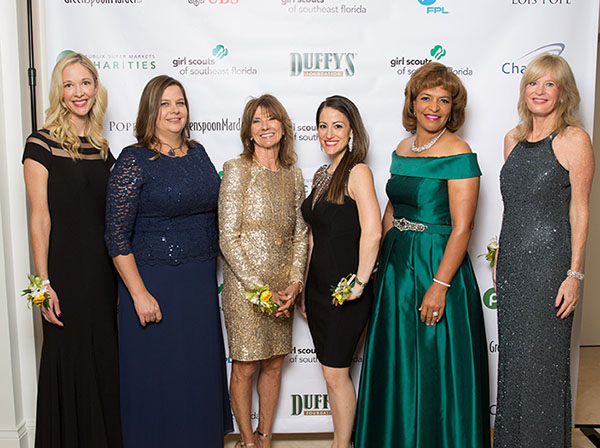 The Girl Scouts of Southeast Florida is now accepting nominations for honorees of the seventh annual Emerald Awards: Unleash Your Inner GIRL event on April 18, 2020 at the Four Seasons in Palm Beach.
The celebration honors women in Palm Beach County who exemplify leadership and serve as role models for young women in our community. Four awards will be given to women who embody the characteristics of today's GIRL — go-getter, innovator, risk-taker and leader. In addition, a Lifetime Achievement Award for Philanthropy will be given to one woman who demonstrates outstanding civic and charitable support.
All nominees must have lived or worked in Palm Beach County for at least three years, need to have made a major contribution or significant difference in their communities, cannot be a current board member of the Girl Scouts of Southeast Florida and they do not need to have prior experience with Girl Scouts.
Nomination forms should be completed online at https://tinyurl.com/Emerald2020. The deadline for submissions is Friday, Nov. 1. For more info., contact Danielle Crouch at dcrouch@gssef.org or (561) 815-1808.
The 2020 Emerald Awards Event Chair is Virginia Spencer and the honorary chairs include Geri Emmett, Suzi Goldsmith, Donna Mulholland, Lois Pope and Pamela M. Rauch.
Sponsors for the 2020 Emerald Awards include: Publix Super Market Charities (Major Sponsor), Joe DiMaggio Children's Hospital (VIP Luncheon Sponsor), Florida Power & Light (Innovator Award Sponsor) Donna Mulholland (Silent Auction Sponsor), PNC Bank (Supporting Sponsor), Lois Pope (Go-Getter Award Sponsor), LaCroix Sparkling Water Inc. (Steward Sponsor) and Suzi Goldsmith (Leadership Sponsor).