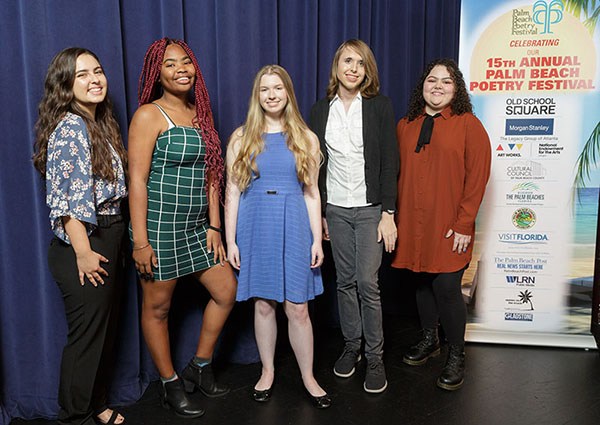 Dr. Blaise Allen, director of community outreach for the Palm Beach Poetry Festival, recently announced that the nonprofit organization has launched its annual Palm Beach County High School Poetry Contest.
From Oct. 1 through Dec. 13, any Palm Beach County public or private high school student can submit one original poem (30 lines maximum) for consideration. Original poems should be submitted by e-mail before midnight on Dec. 13 to PBPF1@aol.com. For contest rules, visit www.palmbeachpoetryfestival.org.
The winning poet will receive $200 and a pair of tickets to the Friday Night Poetry Reading on Jan. 24, 2020 featuring 2018 NAACP Image Award winner and Kingsley Tufts Poetry Award recipient Patricia Smith, the Poetry Festival's 2020 Poet-at-Large.
The four runner-up high school poets will each receive $100. All five winning teen poets will read their poems at the festival's award ceremony on Monday, Jan. 20, 2020 at 5 p.m., where they will have the opportunity of meeting and having their pictures taken with nearly a dozen of America's most distinguished and award-winning poets.
In addition, the winning high school poets will each receive a one-year subscription to Poets and Writers Literary Journal, and their poems will be published online on the festival's official web site.
The judge for the annual High School Poetry Contest will once again be Dr. Jeff Morgan of Lynn University's Department of English in Boca Raton.
The 16th annual Palm Beach Poetry Festival will be held Jan. 20-25, 2020 at Old School Square in Delray Beach. The festival will feature top poets at numerous ticketed public events, including readings, talks, interviews, panel discussions and more. Poetry workshops will be offered, for which applications are required.
To learn more about the Palm Beach Poetry Festival, visit www.palmbeachpoetryfestival.org.