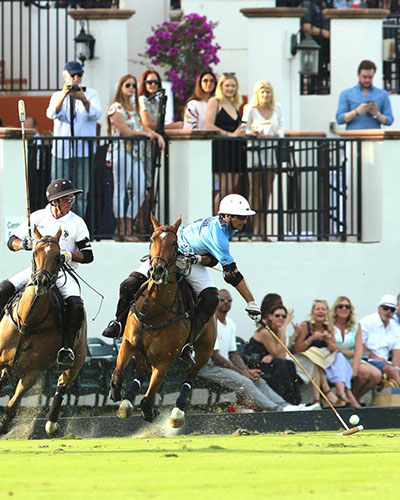 The Polo Players Support Group is thrilled to welcome U.S. Polo Assn. as the title sponsor of the 40-Goal Polo Challenge.
Since 2002, the PPSG has hosted its marquee fundraising event, the 40-Goal Polo Challenge, in South Florida, gathering eight of the world's best polo players to put on an all-star polo game to benefit seriously injured and ill polo players and grooms.
"The PPSG is delighted to have U.S. Polo Assn. as our title sponsor," said Dave Offen, president of the Polo Players Support Group. "We have enjoyed working with U.S. Polo Assn. for the past two years as our apparel sponsor and anticipate bigger and better initiatives to come. I believe this partnership will be well received by the polo community, who we rely on for support. We look forward to making 2020 our best year ever."
U.S. Polo Assn. is a global lifestyle brand officially sanctioned by the United States Polo Association, the governing body of the sport of polo in the United States since 1890. Products are sold in more than 180 countries at independent retail stores, department stores and in 1,100 U.S. Polo Assn. brand stores. U.S. Polo Assn. carries clothing for men, women and children, as well as accessories, luggage, watches, shoes, home furnishings and more.
"U.S. Polo Assn. is honored to partner with the PPSG to support such an important cause and such a wonderful event," said J. Michael Prince, president and CEO of USPA Global Licensing Inc.
The 40-Goal Polo Challenge has become one of the most popular charity events of the winter equestrian season at the International Polo Club Palm Beach in Wellington. The PPSG is often a gateway for both polo players and fans alike to come together in support of a worthy cause.
Inspired by the 2000 benefit that raised more than $200,000 toward polo player Rob Walton's expenses after a polo-related accident left him paralyzed, the PPSG was established to raise funds for seriously injured and ill polo players and grooms. Founded in 2002 by Dave Offen, Tony Coppola and Tim Gannon, the nonprofit has since provided financial assistance to 82 seriously injured and ill polo players and grooms totaling over $2.6 million. To learn more about the PPSG, or to make a donation, visit www.polosupport.com.