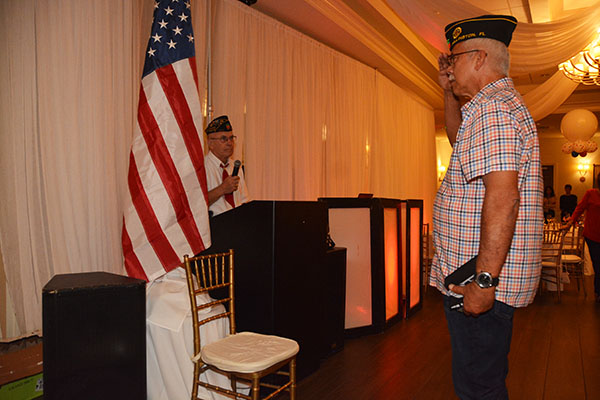 The Wellington Community Foundation's Salute to Our Heroes: Red, White & Blue Jeans event is returning next month for the fourth straight year. The celebration will take place on Friday, Nov. 8 from 6:30 to 10 p.m. at the Wellington National Golf Club, located at 400 Binks Forest Drive.
The event, while close to Veterans Day, is an occasion to celebrate all our heroes, including firefighters, emergency workers and law enforcement, along with active and retired members of the military. This unique fundraiser gives guests a chance to enjoy great food and music in a more casual atmosphere.
Former Wellington Mayor Tom Wenham chairs the Wellington Community Foundation and loves the concept of dressing down in blue jeans and wearing comfortable shoes for a fundraiser designed to support the local community.
"That would be the best part, because it is so much easier to go out if you don't have to be all dressed up. To be casual is something everybody enjoys," Wenham said. "Everybody feels more relaxed and can just enjoy themselves."
The purpose behind the party is raising money for the many special programs run by the Wellington Community Foundation.
"The foundation focuses on helping children, seniors and veterans," WCF Secretary Mickey Smith explained. "We are a small organization, and it is very personal — truly neighbor helping neighbor."
Smith agrees with Wenham's outlook on the concept.
"The casual dress and atmosphere are definitely a plus, but I am struck by the small-town atmosphere of this incredible event," he said. "The community comes together and determines the resources that the foundation will have to do its work for the following year. But make no mistake, we have a lot of fun doing it."
The Red, White & Blue Jeans event gives people a chance to express their patriotism outside of Independence Day, and attendees are encouraged to really embrace the colors in the theme of their attire.
WCF Vice Chair Maria Becker finds that the event's timing, both near Veterans Day and some years just after election time, creates a unique atmosphere.
"I love the timing. Early November kicks off the start of the season in Wellington," Becker said. "It's an opportunity for us not just to love our community, but to love our country and those who serve. Since it is after election time, it is a great way for us to come together as one community and one America."
This event was the first major fundraiser put together by the foundation when it was recreated as an independent nonprofit organization four years ago. Its success sets the tone for the rest of the year.
"The highlight of this event is to get funding to help us to work with seniors, veterans and children," Wenham said. "I'm a veteran myself, and we like to have the veterans there, too We've had a good turnout, and I hope to see that this year as well."
Becker finds that the foundation's variety of programs fill important gaps in people's lives. Even small gestures make a big impact.
"My very favorite program is Celebrating Seniors, and we've been doing it since the first year," Becker said. "For seniors in the community, especially those on a fixed budget, we'll send them a birthday basket with a flower bouquet, movie tickets and food gift certificates. Sometimes it's just about making a difference in the life of one person at a time in our community."
The evening includes speakers and a Salute to Our Heroes in addition to food and music, and Smith enjoys the chance to honor those who have worked to make a difference in the community.
"Honoring Ken Adams last year was definitely a highlight for me. Mr. Adams is truly a Wellington legend, and it's fitting that the foundation has a scholarship program honoring him and his beloved wife, Arle," Smith said.
While the event has quickly gained popularity, Wenham hopes they will break the record for attendance this year. He urged people to secure their tickets in advance.
Tickets to the event are $85 per person, with table sponsorships and event sponsorship opportunities available.
For more information about the event, or to RSVP, call the Wellington Community Foundation at (561) 333-9843 or visit www.wellingtoncommunityfoundation.org.