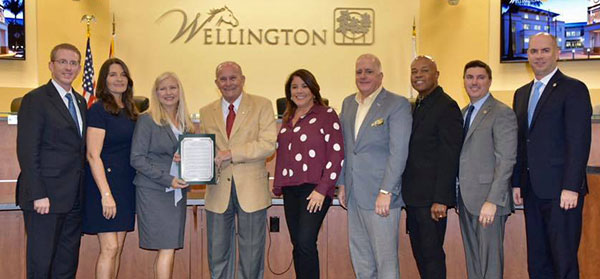 Putting on a successful event like the Wellington Community Foundation's Red, White & Blue Jeans "A Salute to Our Heroes" fundraiser on Friday, Nov. 8 at the Wellington National Golf Club is no easy task, and it is impossible to do without a small army of sponsors willing to support the undertaking.
Sponsors for the event include diamond sponsor Lesser, Lesser, Landy & Smith; ruby sponsor Wellington Regional Medical Center; sapphire sponsor Thomas & Regis Wenham; and table sponsors Jim & Paula Sackett, Dr. & Mrs. Gordon Johnson, Palm Beach Urology Associates, Medicare Maggie, Barry & Phyllis Manning, Barron & Kogan CPAs, First Bank of the Palm Beaches and Dr. Humberto J. Caldera.
Mickey Smith, a partner with the law firm Lesser, Lesser, Landy & Smith, is proud to sponsor the fourth annual event.
"This event is all about community — neighbor helping neighbor," Smith said. "This appeals to us the most, as we strive to give back to the communities we serve."
The Wellington Community Foundation's programs focus on helping some of the most vulnerable members of the community, including seniors, children and veterans.
"Bringing together those in the Village of Wellington, and outside, in an atmosphere of friendship and community outreach, knowing that the bottom line is a mission of helping," sponsor Jim Sackett said of his favorite thing about the event. "To that end, it is my responsibility as a board member to further the foundation's mission. One way is to sponsor this annual fundraiser. I am in a unique position to know what the needs are in Wellington, and how the foundation can meet those needs."
Former Wellington Mayor Tom Wenham, who is sponsoring the event along with his wife Regis, finds the Red, White & Blue Jeans event one of the most amazing community experiences of the year.
"I chose to sponsor this event because it is a genuine Village of Wellington event to assist the people of Wellington," said Wenham, who chairs the Wellington Community Foundation. "What I like most about it is that it brings together many residents. You can renew longtime friendships and honor our veterans. And, it is a dress-down event."
Many local businesses have found the foundation's work worthy of their support.
"The best part of this event is that it held locally to help those locally," said Maria Becker of Palm Beach Urology Associates. "By helping the WCF, we help those citizens in our community who need it most but are often overlooked. The foundation's support makes a difference in the lives of our most vulnerable neighbors and helps make our community stronger."
The patriotic theme of the event also draws in sponsors who are inspired by that idea.
"I like that there is a focus on thanking our veterans for their sacrifices and showing appreciation for their service. It is always the right time to say thank you to our veterans," First Bank of the Palm Beaches' Vice President & Branch Manager James Seder said. "This event is a great way for our bank to support the Wellington community. We fully believe it provides the best bang for the buck and are confident that the WCF will use our donation wisely."
It is that friendship and local trust that builds the community up instead of breaking it down.
"This is an opportunity to do good. Everyone comes to this event with an attitude of sharing one way or another," Dr. Gordon Johnson said. "I chose to sponsor the event because community and giving has always been essential to our family."
Finding unique ways to give back while engaging residents is important to Wellington Regional Medical Center CEO Pam Tahan.
"It is important to me as the CEO of WRMC that we continue to support organizations that are committed to directly benefiting people in our home community," Tahan said. "Our hospital is dedicated to the Village of Wellington and our surrounding communities, which makes continuing to sponsor this event important to us."
To an organization all about giving back to residents, finding support both in and outside of the foundation is paramount. The entire board is driven by the foundation's mission and looks at its programs, no matter the size, and sees the direct impact.
"I am honored to be a member of the WCF board. The money raised at our Red, White & Blue Jeans event will go toward funding more projects that help our Wellington seniors and children who need our support," said Maggie Zeller of sponsor Medicare Maggie. "Whether it is a birthday bouquet of flowers or a new school uniform, the smiles we see are so rewarding!"
The event will take place at the Wellington National Golf Club (400 Binks Forest Drive) on Friday, Nov. 8 from 6:30 to 10 p.m. Guests will enjoy food and music in a patriotic-themed, casual atmosphere while also taking the opportunity to honor those who work to make a difference in our community and country.
Tickets are $85 per person, and sponsorships are still available. For more information, or to reserve a space before the event sells out, call (561) 333-9843 or visit www.wellingtoncommunityfoundation.org.