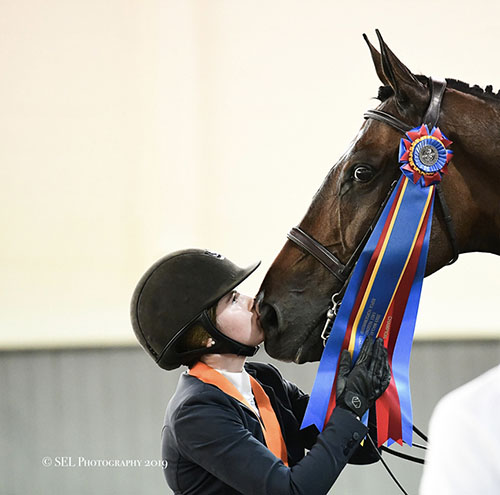 The Lindsay Maxwell Charitable Fund will honor Taylor Griffiths, 17, of Wellington; Avery Glynn, 14, of Petaluma, Calif.; and Emma Fletcher, 17, of Buzzards Bay, Mass. with the prestigious 2019 Lindsay Maxwell Charitable Fund Washington International Horse Show Equitation Scholarship. The Washington International Horse Show (WIHS) runs Oct. 22-27 at the Capital One Arena in Washington, D.C.
The Lindsay Maxwell Charitable Fund (LMCF) is returning for its third year as the title sponsor of the WIHS Equitation Finals. In 2017, LMCF developed the WIHS Equitation Scholarship to recognize the talent, dedication and hard work of junior riders who compete throughout the year in the hopes of qualifying to participate in the WIHS Equitation Finals.
"It is a pleasure to recognize the incredible riders who have both applied for and received the WIHS Equitation Scholarship. Last year, we expanded the number of scholarship recipients, and this year we will continue that growth by honoring three recipients," founder Lindsay Maxwell said. "The selection committee was impressed by the caliber of applicants this year, and we are thrilled to honor these three young women at the WIHS Equitation Finals."
Maxwell was impressed with this year's honorees. "The future of our sport depends on young riders like Avery, Emma and Taylor, who have continually displayed their dedication to our sport, animal welfare and their local communities," she said.
WIHS President Victoria Lowell was also pleased by the selections.
"In the third year of the LMCF WIHS Equitation Finals Scholarship program, the WIHS team is beyond impressed by the quality of the applications and the remarkable talent and commitment of these three young competitors," she said. "We are ever grateful for the increasing generosity and expanded commitment of the Lindsay Maxwell Charitable Fund to this special, one-of-a-kind program."
The scholarship will cover expenses such as travel and lodging for the rider and parent, the show's entry and application fees, equine transportation and stall fees, and special VIP hospitality access. Now in its 28th year, the LMCF WIHS Equitation Finals is a rigorous three-phase competition held over two days. A panel of three judges test and evaluate the riders in hunter, jumper and work-off rounds to determine the best of the best.
Former Lindsay Maxwell Charitable Fund WIHS Equitation Finals champions include Kent Farrington and McLain Ward. Invitations to compete in the annual Lindsay Maxwell Charitable Fund WIHS Equitation Finals are sent to the top 40 junior riders based on points earned during the year-long qualifying period.
Tickets for WIHS are available online on Ticketmaster.com, at the Capital One Arena box office or by calling (800) 745-3000. For more information, visit www.wihs.org/tickets.
The Lindsay Maxwell Charitable Fund supports meaningful organizations and programs that improve the lives of children with special needs, enables access to educational opportunities, and provides care, compassion and protection to animals.
Visit www.lmcfund.org to learn more.