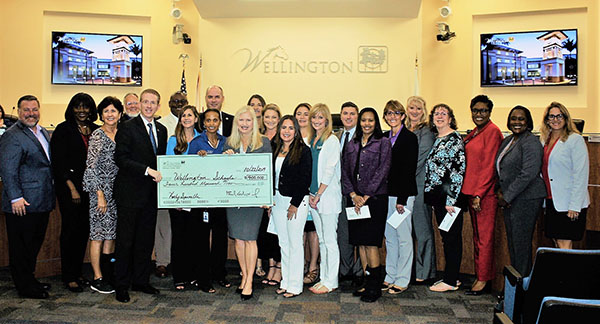 The Wellington Village Council presented its annual Keely Spinelli Grant awards to principals from local schools on Tuesday, Oct. 22. The grant program supports programs that educators put in place to meet the needs of local students, particularly those who need some extra help.
This year, the council approved $400,000 from the general operating fund to go toward the Keely Spinelli Grant for 11 schools. Each school was awarded $35,363 to create programs designed to make advancements for low-achieving students. On Tuesday evening, the principals picked up their checks.
The Wellington Education Committee voted to create the Keely Spinelli Grant in 2013, with the intent of offering financial assistance to village schools. The council agreed and has supported the program ever since.
Each school receives grants that principals put to use to help students achieve elevated reading skills while offering tutoring tools to advance the abilities of children in science and math. Each year, the principals must reapply for the grant, explaining what the money will be used for.
The grant is named for the late Binks Forest Elementary School Principal Keely Spinelli, a literacy educator who put a focus on struggling readers. She died after a long battle with cancer in 2008 but left a lasting legacy with local educators.
The Keely Spinelli Grant money must be used to focus on one or more of four long-term outcomes. The first outcome increases proficiency in third grade reading to 75 percent or higher. The second goal insures high school readiness. The third promotes high school graduation, while the fourth goal is to foster post-graduate success.
Central Region Superintendent Valerie Zuloaga-Haines spoke to the council about the impact of the grants.
"Keely Spinelli had a vision around literacy," Zuloaga-Haines said. "She had a vision about every single student needing to read. She found ways to help students who really struggled with reading. She was very talented, and it's a legacy that we celebrate every year."
School Board Member Marcia Andrews thanked Wellington for its pro-active approach to supporting education.
"You make a difference for our children," Andrews said. "I personally worked closely with Keely Spinelli. She dreamed about making a difference for all children. When I see the Keely Spinelli Grant working every single day in all of our Wellington schools, it blesses my heart, and it makes me so excited that we are not leaving children behind."
Andrews said that other communities could learn from Wellington's approach.
"As I speak across Palm Beach County in District 6, especially, I tell them about what you are doing to make the difference for children," she said. "They are moving to higher levels of academic achievement and have social and emotional growth because of your vision."
Mayor Anne Gerwig noted that the idea was first kindled by Michelle McGovern, wife of Councilman John McGovern, who called Gerwig to explain about the funding not getting to Wellington schools.
"Michelle McGovern called me," Gerwig said. "She said our Wellington schools are not going to get the added funds that you would get if you are a Title I school. Sometimes a child in a high-performing school still needs these services. Michelle wanted to know if there was something we could do. We have had a history of providing extra help. So, I wanted to recognize our education committee for their work in bringing this about, as well as Michelle McGovern and [Palm Beach County Commissioner] Melissa McKinlay for pushing this forward."
In other business:
• Community Services Director Paulette Edwards introduced the members of the first Wellington Youth Council, made up of students from Palm Beach Central High School and Wellington High School."
Gerwig was pleased to see the students at the meeting. "We have really desired input from our youth," she said. "We want to pick your brains."
Vice Mayor Michael Napoleone called the project exciting and long overdue.
"I am so glad we have representation from both of our high schools," he said. "We don't have all seniors, so we will have some overlap from year to year. Paulette, your team has done a great job in putting this together. We are looking forward to getting your input."
Councilman Michael Drahos told the students he admired them for standing up and being leaders.
"It takes a lot of courage to stand up and be a leader for your colleagues," Drahos said. "It's a serious responsibility. I am really excited to see what you are going to accomplish."
• Palm Beach County Commissioner Melissa McKinlay addressed the council on a number of topics, including equestrian waste management. She noted that a meeting is being held in Loxahatchee Groves with Gerwig and Village Manager Paul Schofield to address some solutions for the waste.
"I wanted to thank your town manager, Mr. Schofield, and Mayor Gerwig, who will be meeting with the mayor and the town manager from Loxahatchee Groves to discuss some issues we are having with equestrian waste management," McKinlay said. "So, I look forward to continuing to work with you by finding solutions."
Gerwig has been working with the Palm Beach County League of Cities and other entities to help find a permanent, long-term solution for manure disposal.
McKinlay told the council that they are making progress from a county perspective.
"I can tell you that the recycling facility that was originally slated to go out into the Everglades Agricultural Area, because of the concerns the growers had, we have found another location off of Southern Blvd.," McKinlay said. "They have submitted their zoning applications to county staff. This will be moving through the zoning process."