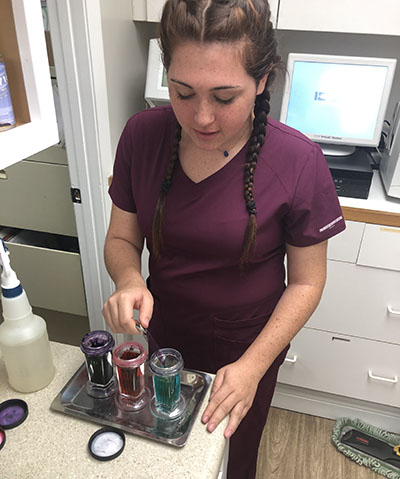 Wellington High School's Equine Pre-Veterinary Academy gets students ready for careers in animal science, veterinary medicine and even those interested in human medicine.
The choice program prepares students for college in an accelerated science curriculum. It is designed for those students desiring a four-year education in an advanced setting. The program is rigorous and requires incoming students to have already taken ninth-grade algebra as an eighth grader.
The program starts in the freshman year. Students enroll in two classes that encompass biology honors, which covers the standard Florida biology requirements, and an experimental science honors class where the student learns scientific laboratory skills, focused on animal science.
In 10th grade, the students enroll in anatomy and physiology honors, which is a standard state course, as well as chemistry, which is a requirement of all veterinary and medical college electives.
In 11th grade, the students take biology 2 honors, focusing in on veterinary medicine like diseases, disorders, diagnostic testing, urinalysis, reading x-rays and medical technologies. Students also have the option of taking an Advanced Placement science class.
Finally, in their senior year, students will take physics and a veterinary internship course. Students work with local veterinarians and begin working on case studies.
These core courses are supplemented by out-of-school experiences. In ninth, 10th and 11th grades, students perform 20 hours of volunteer work on a cattle farm, horse farm, fostering kittens or getting other experience working with animals.
Biology teacher Kim Breier has been at Wellington High School since 1995. Much of her work now encompasses the Equine Pre-Veterinary Academy.
"We are trying to give the students a very well-rounded background in working with animals," Breier said. "We can't have animals on campus, so volunteering at all of the different rescue organizations in our area gives our students a rounder, real world experience."
This outside work is crucial to the curriculum. "We have students who work with local animal rescues that take in fosters, as well as caring for animals that have been starved and neglected," she said. "So, they get to see what's really out there."
Karen Clawson teaches the veterinary research internship to the senior class.
"The students take an internship in their senior year," Clawson explained. "They find a veterinarian that will allow them to shadow. They complete four hours of volunteering each week. While they are there, they need to keep a journal, record activities they participate in and complete case studies in which they have to formally type up one of the patients once a month and submit their symptoms, diagnoses, form of treatment and the expected outcome."
The students present their case studies to Clawson. By hearing about other cases from their classmates, there is a plethora of information to learn.
Ashley Muraskin is a current senior in the academy. She is taking Clawson's class and interning at the Animal Clinic of West Lake Worth with Dr. Ted Brinkmann and Dr. Stephanie Johnston. She goes off campus twice a week to the clinic.
"I've always wanted to be a vet," Muraskin said. "I started riding horses when I was eight years old. This pushed me toward being a large-animal vet, which I am pursuing today. I love working with animals and interacting with the owners."
Would she recommend the academy to other students?
"This is a defining program. Once you get in there you will know if this is what you want to do," she said. "It gives you a feel for what you have to go through in veterinary school."
Muraskin is planning on going to the University of Florida for her undergraduate work and continuing to veterinary school at the University of Pennsylvania.
Dr. Danielle Moragas graduated from the academy in 2011. She went to the University of Florida as an undergraduate and earned her veterinary degree from Cornell University. Moragas is now a veterinarian working locally at the Palms West Veterinary Hospital.
"It was seventh grade when I first heard about the academy," Moragas said. "I always had the goal of becoming a veterinarian. So, when I heard about the program, I already lived close, applied to it and got in. I grew up in Wellington and have lived here my whole life."
She learned a great deal during her four years in the program. "Just making connections through the academy has been very important," Moragas said. "I am working with and sharing my experiences with other graduates."
Wellington High School's Equine Pre-Veterinary Academy has seven teachers: Kim Breier, Melissa Varvarigos, Kristen Dal Santo, Twila Chafai, Denny Cox, Britni Rayman and Karen Clawson. They work with Wellington High School Academy Coordinator Erik Wilkinson.
For more information on this unique choice program, visit www.mypbchoiceapp.com/site362.php.