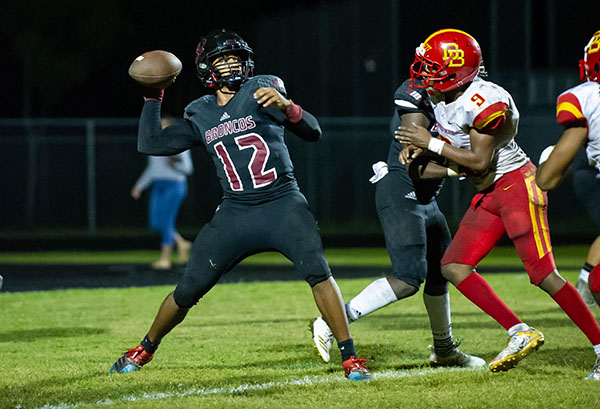 The Palm Beach Central High School football team hosted Deerfield Beach High School in a Class 8A regional semifinal matchup on Friday, Nov. 15. The Broncos were the second seed in the region and entered the contest as district champions but fell to the Bucks 44-6.
The Broncos took the early lead when they capitalized on a Deerfield Beach fumble inside the Palm Beach Central red zone. The Broncos drove down the field with a balanced attack and capped the drive with an 11-yard quarterback keeper into the end zone. Palm Beach Central senior Anarjahe Douriet rolled to the outside and beat the Deerfield corners for the score. The point-after attempt failed, but the Broncos had a 6-0 lead from their first possession of the game.
The Bucks responded almost instantly with a 90-yard kickoff return on the ensuing play. Joseph Kennedy tried to catch a line drive Palm Beach Central kick, bobbled the ball, picked it up, hit the seam and sprinted off, untouched for the end zone to lift Deerfield Beach up 7-6 with just over six minutes left in the first quarter.
The Broncos went three-and-out on their second possession and needed a defensive stand. However, the Bucks drove 68 yards in four plays to extend the lead to 14-6. Quarterback Michael Pratt ran a keeper around the end for the touchdown.
Pratt threw for two more touchdowns before the end of the first half to take a 28-6 lead into the locker room. The first was a 36-yard pass to Xavier Restrepo, and the second was a 35-yard catch by Deajuan McDougle.
The Broncos did manage to move the ball, driving down to the Bucks' 35-yard line but could not convert on a fourth-and-12 to move the chains before the end of the half.
The Bucks added two more rushing touchdowns to make the score 42-6 before the end of the third quarter, and they later added a safety off a blocked Palm Beach Central punt to put the Bucks up 44-6. The Broncos moved the ball at times, getting into Deerfield Beach real estate twice in the second half, but could not capitalize, despite senior Bronco running back Malik Johnson netting 75 rushing yards on 16 carries.
The loss marks the second-straight against the powerhouse Bucks. Palm Beach Central traveled to Deerfield Beach last season for the regional final game. However, what the Broncos did accomplish under first year head coach Scottie Littles is an unbeaten district record, a 9-3 record overall and the district title.
Littles has expressed confidence in his talented junior class returning to carry the momentum into next season, and he has conveyed his respect for his seniors for their competitive spirit all season.