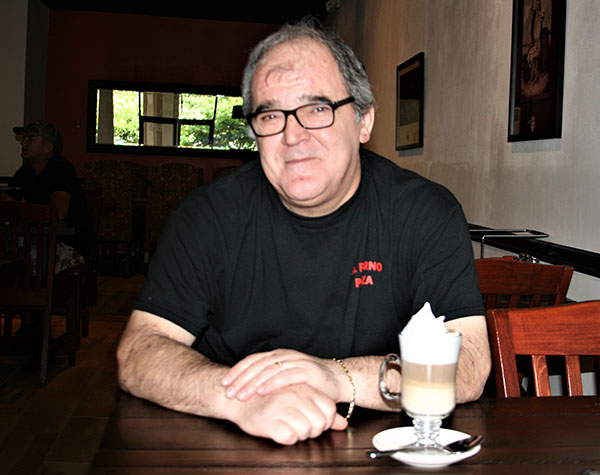 After living in Florida for the past 23 years, Sal Tuto recently opened his new Italian restaurant in the Grove Market Shopping Center on Seminole Pratt Whitney Road. Il Pomodoro is a family friendly space with an expansive menu for all tastes.
The restaurant opened only a few weeks ago, but it has already become a local hotspot.
"I felt very strongly about opening the restaurant here. We have had very positive feedback from the people. Everybody loves the food," Tuto said. "Evenings and weekends, we pack it in here."
Originally from Brooklyn, Tuto and his wife Rovena have a restaurant in Jupiter named Al Forno. When they decided to launch a second location, the space needed some work before the doors could open.
"We completely renovated the space. New floors, new kitchen, all new appliances," Tuto said. "My wife did all the décor. She has a talent for it — definitely a lot better than me."
Sure enough, the space is open and welcoming to guests.
Food brings Tuto's family together. His two sons both run successful restaurants — Al Forno and Two Brothers Pizza in Hobe Sound. His daughter is attending college in Colorado but comes home to Florida on a regular basis.
"When we come together, we cook," he said. "For holidays, we cook for the occasion."
Il Pomodoro is meant to be the perfect setting for family dinners, so everyone can connect around the table. With only one television that stays on the food channel, Tuto's restaurant is a place to relax and enjoy great food, not arguments over sports or politics.
"My favorite part is meeting people and making sure everybody is smiling and happy with their food. That's a good feeling when you see that," he said, noting that the portions are big. "They don't get out of here hungry."
Popular dishes include the chicken marsala and alfredo, but with so many options, including specialty pizzas and massive stromboli, the variety will keep customers from getting bored.
"The menu, it's insanely big. We have 50 different items you can put together in more than 200 combinations," said waiter Claudiu Popescu, who has spent many years working in the restaurant industry.
He came here to Il Pomodoro to work with Tuto. "I trust his cooking — that is the only way. He offers great cooking in the back of the house, and we offer service and presentation to match. Everything works together," Popescu said.
Tuto started in the industry when he was only 14 years old as a dishwasher, and he learned to make pizzas at 16. Italian cuisine has always been his passion.
"I'm a pasta lover. Any type of pasta, I could eat pasta all day long," he said.
But what about dessert? "Tiramisu is my favorite because I'm a coffee guy," Tuto said.
The restaurant also offers lunch specials starting at $5.95 and has a large cheese pizza special for $9.99 on Tuesdays (carry out only).
Il Pomodoro offers its entire menu as a takeout option or for catering. Every catering package is designed and priced individually based on need.
"What I do is ask the amount of people, and I will make sure there is enough for everyone and the package is customized," Tuto said. "It doesn't matter if it is 10 people or 50 people, we can do it."
Tuto is happy to get to know this new community and is hiring locals whenever possible.
Il Pomodoro is open every day of the week from 11 a.m. to 10 p.m. The restaurant is located at 5030 Seminole Pratt Whitney Road, Unit 8. To place an order for pickup or discuss catering options, call (561) 223-3932.