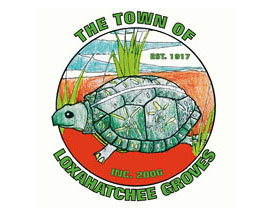 The Loxahatchee Groves Town Council last week postponed hiring a contractor to publish a digital and printed newsletter for town, chafing at the cost of about $25,000 a year.
At the Nov. 5 meeting, some supervisors said they would first like to see the town's web site fully functional. Many elements of the site have been "under construction" since April, after it was taken down to achieve compliance with the Americans With Disabilities Act.
The newsletter item was pulled from the consent agenda for discussion.
Town Manager Jamie Titcomb said the agreement would put consolidated messaging out to town residents in the form of an e-newsletter and periodic printed newsletter.
"We talked to all sorts of providers and purveyors of these services," Titcomb said, explaining that staff had decided My PR Guru was the most desirable provider.
However, the cost exceeded Titcomb's authority to make an administrative decision.
He explained that Elliot Cohen, founder of My PR Guru, has worked with a number of municipalities.
"In meeting with him, we zeroed-in on the kinds of communication pieces that we thought would be helpful for unified messaging," Titcomb said.
Councilwoman Phillis Maniglia wanted to hear Cohen speak on the plan.
"I thought we were getting a web site up and running, so I'm not on board with this, Maniglia said.
Titcomb told Maniglia that the new web site is mostly complete.
"We're doing final tweaking on that," he said, inviting the council members to come in for a tutorial on the new web site. "The link is not for public consumption. It's an unpublished site right now."
Councilwoman Lisa El-Ramey said she had met with Cohen at the town's recent visioning session. "He was there on his own time all day, and I would like to hear from him," she said.
Councilwoman Laura Danowski said she has experience with web site and newsletter publications and felt what Cohen offered is a fair price.
"Where is your service going with that? For an outside service to research and write content?" Danowski asked Cohen. "I don't think that's the best use of town money, but I would like to hear what your thoughts are and what you are going to do."
Cohen said his firm focuses on municipalities and other government communications.
"The value that we are adding is not in just the creating of a newsletter, but in culling out the content that residents are interested about and creating interesting story lines to make sure that residents stay informed as to what's going on," he said. "We specialize in small municipalities because they generally don't have their own communications departments and can benefit from our services."
Cohen said that he will function as a turnkey communications department.
"Our role is to make sure that people are informed as to the good things you guys are doing," he said, explaining that much consternation comes from a lack of information as to what the town is doing. "Sometimes it's tough to translate what's happening here to the general public and give them a sense of understanding what their tax dollars are paying for."
He said his company's function is not for advocacy of certain projects or for a particular public official, but to give the public a sense of confidence that what is being published is factual, objective and interesting.
Maniglia asked Cohen what municipalities he has worked for that are similar to Loxahatchee Groves. Cohen said that he has done work for Lake Park and Lake Clarke Shores, but that Loxahatchee Groves is unique.
"Our content is dictated by your actions and what the town does, and what you do is dictated by the needs of your community, so our communications will be dictated by that," he said.
Maniglia asked if the new web site will have a blog section, and Titcomb said the web site could have a blog area, but someone would still have to write and edit it.
"That all has to be compiled and edited by a consistent source, whether that be the council, staff or a hired gun," Titcomb said.
Maniglia said she would like to see what is offered on the town's new web site before she commits to a public relations firm.
"I don't believe that they know enough about our community," she said. "We've all talked about a newsletter, but I think this year we need to tighten our belts. We need to take a look at our web site up and running, and then see how we communicate with the public."
El-Ramey noted that she ran for the council on a platform of better communications with residents.
"I was envisioning something a little more in-house based and possibly volunteer resident driven," she said. "The price tag, while it may not seem like a lot, I think as we're launching the web site, it may be a little premature. But again, this is something that is going to be critical for this town to come together as a community to withstand the storm of outside forces that we're dealing with."
Cohen said the new web site would be a repository for information but pointed out that someone would still be needed to provide the content.
"You still are going to need the generation of the content on the web site," he said. "The generation of the content is really what is needed as far as translating what is happening here in town hall and making sure residents are informed."
He added that once the web site is up and running, part of his firm's responsibility might be to maintain a section of it. "We will enhance the quality of the web site and draw some traffic to the web site once it's up and running," Cohen said.
Councilman Dave DeMarois said he had no problem having a service to distill essential information from a meeting that may last for five hours into a few pages that a resident could read in a few minutes, as long as the information is correct.
But Maniglia said she was not ready to pay $25,000 a year at this point.
Titcomb said Cohen's contract could be delayed to the start of the web site, if that is what the council desired.
"It's like hiring a quarter-time employee to do nothing but this stuff for us instead of adding more duties to the existing employees, who already have their hands full," he said.
Danowski said she favored the concept but had a problem with paying Cohen, plus mailing and printing costs, on top of the $4,000 a month the town pays to the web site contractor.
"You could almost cut that in half and have a part-time intern in here who is an English major who could write and possibly pick up some of the slack that happens around this office," she said.
Mayor Robert Shorr was concerned with the cost, as well as not having three bids on the contract.
"I believe we should develop the scope of work first." Shorr said. "This is definitely needed, it's wanted, it has been asked for. It's the next step to keeping things moving forward."
Titcomb suggested tabling the item until staff comes back with a scope of work that the council can agree with.
Maniglia made a motion to table the item for three months, returning with other quotes and a scope of work. The motion carried 4-1 with Shorr opposed, who said the item is too important to delay.