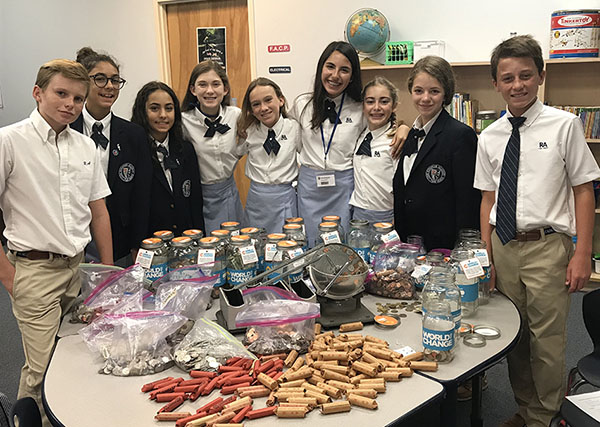 In response to the humanitarian crisis facing the Bahamas in the wake of Hurricane Dorian, the Rosarian Academy has opened seats to hurricane-displaced children who no longer have a school to attend. To date, eight students from the Abacos are now attending the independent Catholic school in West Palm Beach. Rosarian's goodwill in the wake of Dorian sparked a "world of change" with a $10,000 matching challenge.
Matt Hoidal of the nonprofit World of Change caught wind of the school's relief efforts through a Facebook post where Rosarian Academy students were counting change donated by friends of the school to help with the incidental costs for Rosarian to educate the Bahamian children. Moved by the students' service and the school's efforts to help displaced families, Hoidal reached out to Rosarian to be World of Change's first partner in the State of Florida.
World of Change uses a series of ongoing matching challenges and grassroots fundraising efforts to mobilize and leverage the collective capacity of collecting change. On behalf of Rosarian's relief efforts, World of Change helped identify another charity, Hands on Tzedekah, to match up to $10,000 of change collected between Oct. 7 and Oct. 31.
Hoidal led the Rosarian Academy student body in an assembly on Thursday, Oct. 10 as a kickoff to the school collecting change. Each child was sent home with a small "World of Change" change purse. Students were encouraged to put any spare change found lying around the house, in the car or in the streets into the pouch.
Community members were also invited to be a part of this change collection. St. Patrick Catholic Church in Palm Beach Gardens and other local Palm Beach County businesses joined, including Searcy Denney Scarola Barnhart & Shipley, North Palm Beach Dentistry, Anderson Chiropractic Clinic, Raymond James-West Palm Beach Branch, Dr. Roberto J. Acosta and Bath Fitter.
A total of 50,463 coins were sorted and rolled by students. The total amount collected was $8,499.31, which is being doubled through the generosity of Hands on Tzedekah, bringing the total amount to $16, 998.62.
"We are called to be the hands and feet of Christ and are blessed that our students and staff can witness firsthand the 'change' they are making for our Bahamian friends who have joined our school family this year," Head of School Linda Trethewey said.
For more information on the Rosarian Academy's hurricane-displaced relief efforts, contact advancement@rosarian.org or (561) 345-3109.