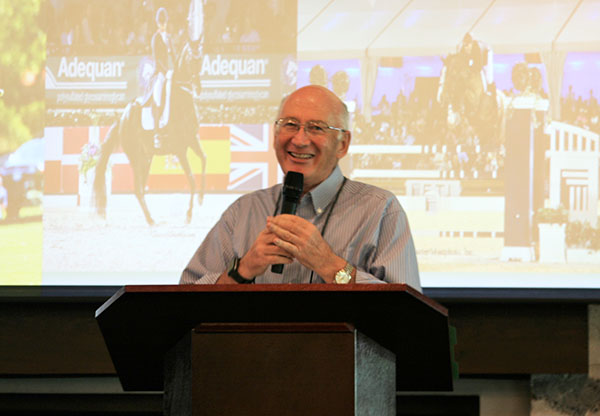 With the busy winter season arriving soon, the Wellington Chamber of Commerce held its annual equestrian season kickoff luncheon Wednesday, Nov. 13 at the International Polo Club Palm Beach.
The event's guest speaker, Equestrian Sport Productions President Michael Stone, gave a snapshot covering the history and future of the local equestrian industry.
"Rather than doing the same old thing we do every year, I thought maybe we'd have a little look at the industry and how it contributes to the economy here," Stone said. "27 million people ride a horse. Think about that in terms of the people who are actually involved in equestrian sports — it's a massive market that is hugely under-tapped."
The equestrian industry has several economic components, including entertainment, hospitality, commerce, tourism and real estate.
"The equestrian market worldwide is $317 billion in global economic impact. There are 753 million equestrian fans worldwide, and 95.5 million of those are in the U.S.," Stone said. "No matter what part of the industry you are in, there are opportunities."
According to the IPC's data, competitions host more than 300,000 attendees and have more than 20 countries represented on the field. The purses are higher, too, with the first million-dollar purse for polo, and $370,000 in prize money up for grabs in Gladiator Polo.
"The annual economic impact is $250 million at the last survey. We think it's actually more than that," Stone said. "It supports almost 1,000 jobs during the season in the local area, and 50 percent of the small businesses in Wellington claim they would not exist without the equestrian industry."
During the winter months alone, $46 million is spent on direct equine-related expenses. "All the sports are growing. They are growing globally," Stone said. "Even in Dubai and Qatar, they are organizing winter festivals. One benefit we have is people are invested already here in Wellington."
Stone also addressed some of the challenges and opportunities for the equestrian industry, including new venues on the horizon in Ocala and California.
"We almost have too many horses. It gets very congested, and people don't have a great experience. So, we are working on improving the facility so we can cope with these greater numbers," Stone said. "There's a lot of [manure] out there, and we have to find a way to get rid of it. We are working on ways to recycle it, and if it works, it will be fantastic."
The luncheon was sponsored by the Joe DiMaggio Children's Health Specialty Center. Dawn Quaranta, vice president of Palm Beach operations, spoke to the crowd about the services and community involvement of the new facility located on State Road 7 in Wellington.
"One of the things that we strive to do an as organization is make sure that we are the best community partner we can be. We were a partner and sponsor of the Palm Beach International Equestrian Center last season and this season moving forward," Quaranta said. "We have been working in the community to build partnerships. That is one of our goals."
Memorial Healthcare and Joe DiMaggio Children's Hospital chose Wellington as a satellite location to meet their goal of keeping care close to home for pediatric patients.
For more information about the Wellington Chamber of Commerce and upcoming events, visit www.wellingtonchamber.com.