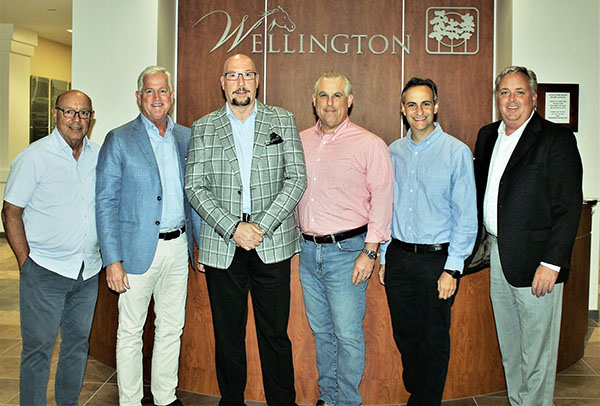 The Wellington Village Council gave final approval Tuesday, Nov. 12 to 50 high-end luxury condominiums that will soon be built on the 5.58-acre parcel at 13410 South Shore Blvd. where the vacant Players Club restaurant and nightclub currently stands.
The Coach House Wellington project was given preliminary approval by the council in September and transmitted to the Florida Department of Economic Opportunity for review and comment.
The DEO had 30 days to respond with any concerns about regional or statewide impacts. No comments were submitted by the state to Wellington regarding the comprehensive plan changes associated with Coach House.
To convert the existing restaurant into a 50-unit multifamily condominium, owner Neil Hirsch and Sperin LLC needed Wellington to amend its comprehensive plan map, get comprehensive plan text and zoning text amendments, and get approval of a master plan. All four items were approved as part of Tuesday's council agenda.
Ordinance 2019-07 amended the future land use map designation of the Players Club site from commercial recreation to residential. Ordinance 2019-05 allowed a text amendment to modify the building height limitations in the comprehensive plan for multi-family residential properties. The applicant requested 72 feet but was approved for 56 feet.
Ordinance 2019-06 modified a section of Wellington's land development regulations to increase the allowable building height for multi-family residential properties. The extra height was approved because the applicant provided additional setbacks, had a property larger than two acres in size, was not directly adjacent to single-family residential properties and had council approval for a height modification for over 35 feet. In addition, the planned underground parking structure reduced paved areas, adding green space.
Resolution R2019-025 amended the Wellington PUD Master Plan, allocating 50 dwelling units to the site. Two access points along South Shore Blvd. and the increased building height for the property were also approved as part of the master plan.
John Greene of the Cohen, Murray & Greene Group at Douglas Elliman Real Estate is handling marketing for the project. A former member of the Wellington Village Council, he discussed the project with the Town-Crier after the meeting.
"Demolition will take place in the next 30 days," Greene said. "We hope to get the site work done, and then construction groundbreaking will be in the first quarter or second quarter of next year."
He expects to start the sales process soon.
"There has been a lot of excitement and anticipation over the project," Greene said. "We have been having a lot of people asking us when they can get involved. We are now ready to move forward."
The construction schedule to deliver the condominiums to potential owners is slated for the summer of 2022.
"I think we have done good work to make sure we are responding to the market," Greene explained.
The high-end condominium units will have an underground parking area with private garages, elevators and a rooftop pool.
The assessed value will be close to $140 million, with permit and impact fees to the village of over $1 million. A projected 500 jobs will be supported during construction, and 12 full-time positions will become permanent at its completion.
The process to redevelop the Players Club site began 18 months ago.
"It has been a long process but a fair process," Greene said. "From our perspective, that is all that we ask for. Village staff has been phenomenal to work with."
The luxury project has received positive feedback in the equestrian community because, Greene said, there is a niche lacking for "lock and leave" buildings with a concierge element of services in Wellington.
The luxury condominiums will boast 4,000 square feet in some of the units.
Care has been taken to maintain the site's landscaping. The project will not disturb many of the mature trees on the lot. The building will connect tenants to the nearby equestrian venues by way of walking, biking or a quick golf cart ride, once the village widens the sidewalks.
"I think it's going to be good for Wellington," Greene said. "I want people to understand that it's going to be very low impact from a traffic standpoint and low density in the number of condominiums."
Greene believes Coach House will put Wellington on the map when it comes to high-end real estate.
"It's part of the equestrian community, and that is the economic engine that helps drive this community," he said. "This is a project that caters to that clientele. It's going to be a nice price point that adds a lot to the tax base. It also fills a void from a housing standpoint. We don't have this kind of product available, whether they are looking for a lock and leave product, or they have a lifestyle that managing a larger estate becomes a burden. We expect people who are looking not to trade space to lower their standards from a lifestyle standpoint, but an easier place to manage and enjoy."
For more information about Coach House Wellington, visit www.coachhousewellington.com or call Greene at (561) 351-5762.