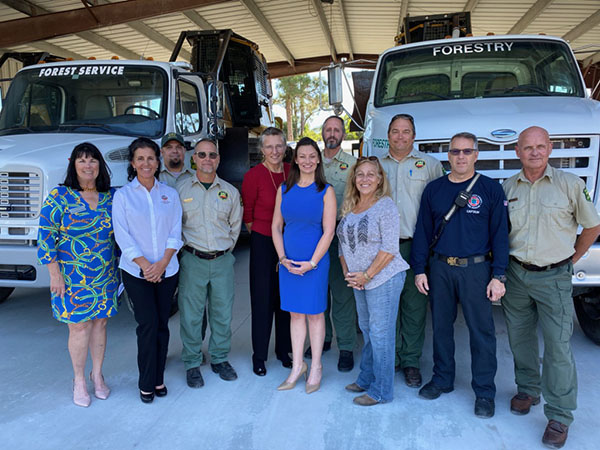 State Rep. Matt Willhite (D-District 86) is working in Tallahassee to arrange for more than $5.1 million for infrastructure improvements in his district, many of them in the Town of Loxahatchee Groves, which has long been challenged by the poor condition of its roads.
HB 4099 calls for nearly $770,000 for improvements to South D Road, where a Division of Forestry office is located. It includes the installation of guardrails along the canal side of the shell rock road, improved drainage and access to make the road safer in storms.
"Since D Road is made entirely of shell rock, this road becomes impassible during rain events," Willhite explained. "As such, not only does it create a significant safety hazard for the citizens who have to use this road to get to their homes, it also keeps these state forest rangers from being the most effective in responding to emergencies. This appropriation will improve public safety and provide the Division of Forestry a safer passage."
Loxahatchee Groves resident and town legislative consultant Mary McNicholas said that Willhite is sponsoring several bills submitted by the town to improve roads and other infrastructure.
"As part of the legislative priorities for the Town of Loxahatchee Groves, we have four appropriation requests that Rep. Willhite is sponsoring," McNicholas told the Town-Crier on Tuesday. "One is the canal rehabilitation project for total matching funds of $550,000."
The requests also include $1.1 million for North B Road improvements. "That, along with southern D Road and North Road multiuse trail improvements were included last year in the legislative priorities for the town, of which one went through both houses for approval, the North Road multiuse trail, but then was ultimately vetoed by the governor," McNicholas said.
She added that last year was the first time that the town has gotten any legislative requests through both houses of the legislature. She believes there is a good chance that the North Road trail improvements will pass and be signed by the governor this year.
"We have total support from Rep. Willhite and probably some other legislative delegation members," she said. "As a town, we are not looking for a handout. We're adding [50-50] matching funds. We're looking for a leg up so that we can actually complete some of these projects. We also, as a town, have been doing a lot of work in the meantime and have added more than $150,000 worth of drainage projects to both of those road improvement projects, and they have added some substrate as far as rock. So, hopefully, that will also show legislators that we're not just looking for a handout."
She pointed out that southern D Road is a major connector to State Road 80/Southern Blvd., which is undergoing major improvements.
"There will be an addition of a traffic light and turn lane at that intersection, so you've got fast approaching traffic coming off Southern Blvd. going onto North D Road, and you're going to be confronted as a driver with what would be considered a dirt road that sometimes is impassible during rain events, but the project will include guardrails, substrate, drainage improvements and erosion control."
McNicholas added that with the Division of Forestry emergency vehicles located there, as well as being used by Palm Beach County Fire-Rescue and other emergency vehicles, it is a necessary project for public safety.
"[Florida Agriculture & Consumer Services] Commissioner Nikki Fried was out there last week on-site," she said. "She was appreciative of the project being brought to her attention. I think it's a little eye-opening when you look at it, especially when you're sitting there looking at the amount of construction and how timely it is for South D Road to go ahead and complete that project."
McNicholas reiterated that the town has never received funding from the state for these types of infrastructure improvements.
"We're working diligently from all angles in hopes that we will bring home some of the state funding that has bypassed us in previous years," she said.
The North Road multiuse trail request is for $47,500. "I like to say multiuse because, in essence, it's non-motorized-type transit. It could be walking, it could be running, it could be anything non-motorized."
She pointed out that the Village of Wellington has what are called conflict signs that list who has the right of way, including pedestrians and equestrians. "Basically, it shows the order of who goes through first," McNicholas explained. "It seems to work very well. It has worked in other equestrian communities."