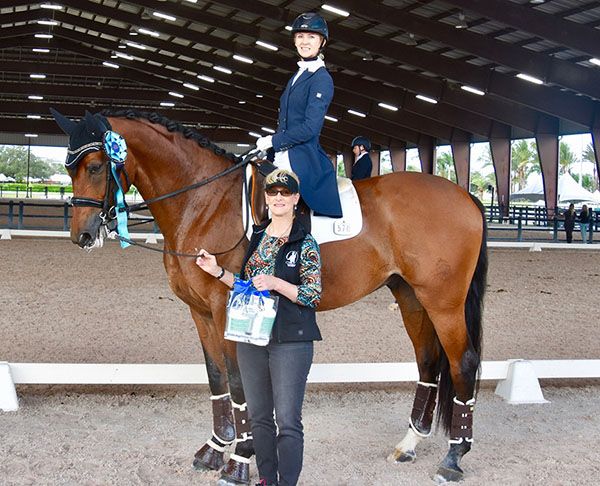 Talented dressage trainer Kelly Layne had an impressive start to her dressage show season in Wellington. Not only did she and her horse Samhitas win the FEI Grand Prix with a score of 68.587 percent at the Gold Coast Fall Fling Dressage Show in November, but the day after the Grand Prix, Layne was presented with the Omega Alpha Healthy Horse Award.
The Fall Fling kicked off the 2020 dressage season, which started Nov. 1. The show, conducted by the Gold Coast Dressage Association, was held at Equestrian Village in Wellington.
Layne, who is originally from Australia, now lives and trains in Wellington. The skilled dressage rider, who competed for Australia in the 2006 World Equestrian Games, currently has a large group of adult amateur riders under her tutelage along with horses in training. Layne was proud of capturing first place in the Grand Prix on the 10-year-old Samhitas. "He was with me the whole way through the test," she said. "I am so glad we have these shows like the Fall Fling so horses can get this experience."
She has owned Samhitas since March, although she admitted to sitting on him two years before. "When I did, I thought, 'That's my horse!'" Layne recalled. "It's just luck I had the funds in March, and he was still available. I will see how he goes, but I'm hoping if he continues to go so well, I can campaign him in Europe next year."
Rock Pool, an eight-year-old owned by Layne's longtime friend Connie Bookless and trained/ridden by Layne, competed in the Prix St. George at the Fall Fling.
As for her Omega Alpha Healthy Horse Award, the trainer noted that Samhitas had a bout of pneumonia when she first bought him and was on antibiotics, but ever since then the plucky horse has been on Omega Alpha's RegenerEQ, which supports stomach function and promotes increased appetite and weight gain in horses. Layne credits the supplement with helping hasten Samhitas' recovery and return to training.
Known for its all-natural equine health supplements, Omega Alpha is a Canadian-based company that understands the value of horses that exemplify excellent health from the inside out. Omega Alpha also offers an extensive line of all-natural products for humans and other animals as well. To learn more about the company, visit www.omegaalpha.com.