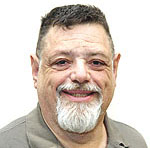 'I' ON CULTURE
If you see Star Wars: The Rise of Skywalker you will probably like it, but not love it. There are arguments about whether the last mainline movie ruined or saved the series, but frankly, I don't even remember all that much about it and care even less. This is a long movie (144 minutes), but things move quickly, even if the plot is a bit hackneyed.
The movie starts with Rey (Daisy Ridley) continuing her training under the supervision of General Leia (Carrie Fisher). Yes, Fisher has been dead for a bit, but these are modern times with modern technology. Meanwhile, Poe Dameron (Oscar Isaac), Finn (John Boyega) and Chewbacca (Joonas Suotamo) learn to their horror that evil Emperor Palpatine (Ian McDiarmid) who was believed killed earlier has managed to use his Dark Side power to survive and has been the bad guy behind all of the problems going on throughout the whole final trilogy.
That leads to adventures all the way around the galaxy. Rey joins them in trying to find Palpatine and they wind up being chased through a desert world, assisted by old friend Lando Calrissian (Billy Dee Williams). Through a variety of worlds, they meet a whole group of strange characters. All the way through, Kylo Ren (Adam Driver) is finding ways to communicate with Rey. Eventually, of course, there is the "big battle" where it's the good guys against the bad guys with lots of explosions, while Rey finally learns her true ancestry and works to fulfill her destiny.
Lots of action is mixed in with quiet moments in which, usually Rey but occasionally others, stares into the camera and tries to figure out just what is going on. Along the way, Finn seems to pick up on some of that as well, although, frankly, it comes across as a plot device. Much of the plot seems to also be what is usually called "fan service," meaning that things are done to please the audience more than to move the plot. Quite a few characters are brought in who have relatively nothing to do with the real plot because it is nice to see them again.
That is the main problem with the plot. Most of the characters, including Finn and Poe, are present essentially there because they are supposed to be there. Aside from one quick speech by Poe to encourage the troops before the battle, he is mostly Rey's pilot. Chewbacca does some shooting but contributes little else. Finn clearly is trying to tell Rey about his feelings for her, but he has more chemistry with another character, Jannah (Naomi Ackie) who has a similar background and clearly likes him. Even worse, director J.J. Abrams changes Rey's story about her identity. After two films of her creating her own identity, he pulls her right back into the whole destiny thing.
Ridley and Driver are both good, particularly Driver, who is the most conflicted character. It is their story that dominates the film. Keri Russell has a tiny part in which, for one second, we see her eyes, and for the rest she is completely covered up. Therefore, essentially wasted.
The real issue is that we don't care as much about the current crop of lead players as we did for the original cast. The real magic comes on when Fisher and Williams are on the screen, reminding us of the greatness of the original films. And there is a brief cameo by the spirit of Han Solo (Harrison Ford) that really makes it clear that this is a pale copy of the films that won our hearts two generations ago.
The effects are really good but, in the long run, often disappointing. The final battle is actually less exciting, partially because the main confrontation between Rey and Palpatine is going on simultaneously and the film flashes back and forth.
Should you see it? Yes. But we should remember that the really great Star Wars saga ended when Luke lost his hand.