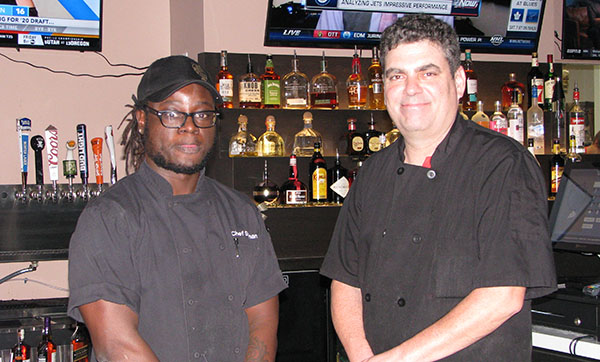 A true New York pizzeria, Big Rocco's Pizzeria & Tavern has opened in Royal Palm Beach in the Burlington shopping center at the northwest corner of State Road 7 and Southern Blvd. It has the lofty goal of serving nothing less than authentic New York pizza.
The full-service big brother of Big Rocco's Pizza Express in Wellington, which has been offering the delicious, distinctive pizzas since 2015, the new pizzeria and full tavern just opened to rave reviews in November.
One customer said of their pizza, "I am from New York, so I'm a pizza snob. I've tried many local places… I believe the only place you can get New York pizza is a New York pizzeria, but this is pretty dang close, at prices that are competitive with the cookie-cutter places."
Director of Operations Earl Sarver sees the establishment as more than purveyors of perfect pizzas. "We're kid-friendly, but there is a full bar for the adults," he said.
Sarver explained how he learned to make New York-style pizza as a youth. "In the 1980s, a teenager could make money mowing lawns or delivering newspapers. I have allergies too badly for lawn work, and I'm not getting up a 4 a.m. for anybody. Cooking pizzas is in my blood," Sarver said as he expertly kneaded a ball of dough.
Along the way, Sarver said he had true, expert pizza-making mentors, and when they opened Big Rocco's, he relied upon an updated recipe handed down to him by his uncle, from way back when.
"We're contemporary and modern, slightly upscale, with no checkered table clothes and gaudy wine bottles dripping wax," Sarver said.
The spacious, open-plan restaurant surrounds the full central bar with a featured happy hour. There is a traditional observation window so customers can see the pizzas being tossed.
Big Rocco's has an impressive wine collection and offers a private room that can accommodate 50 people for social functions. The restaurant even provides private menu catering.
With appetizers starting at just a couple of bucks, subs and salads in the $9 to $11 range and an extra-large, 20-inch pizza starting at $17.99 with 20 additional toppings to choose from, there is something for every family's taste. Select from a dozen gourmet pizzas, seven-layer vegetable lasagna, or chicken piccata, Florentine or alfredo — and much more.
Owner Vikas Bansal said that they knew they were on to something with the positive response they got to the pizza at the express store in Wellington. "We knew we had to bring a full restaurant pizzeria and tavern to the area," he said.
Sarver is married to wife Tricia and has two grown children, a lifetime of pizza experience and a great sense of humor. "Some customers told me this area has so many New Yorkers it is considered a sixth borough," he said. "They told me it is about time someone opened a true, authentic New York pizzeria here. Now we have."
Big Rocco's Pizzeria & Tavern is located at 10479 Southern Blvd. in Royal Palm Beach. For more information, call (561) 318-8927.