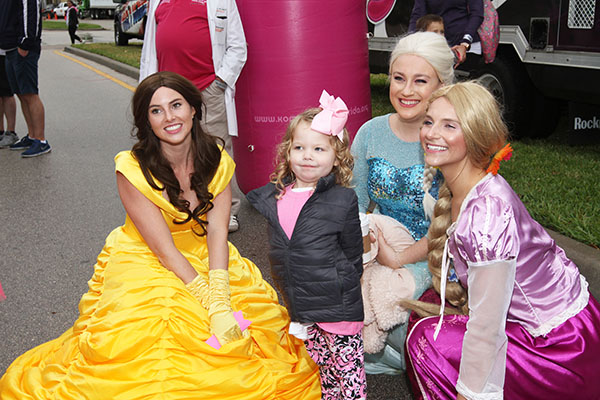 Susan G. Komen's Race for the Cure, South Florida is more than just a 5K, it is fun for the whole family. As the Jan. 25 event grows, so does the Kids Zone. Painting hedgehogs, interactive fishing activities and bounce houses galore are just a few of the fun things in store for kids of all ages during the 29th annual event taking place from 7 to 11 a.m. along the downtown West Palm Beach waterfront.
Kate Watt, Susan G. Komen Florida's executive director, loves the focus on family fun and encourages families to come out to enjoy the festivities and support the cause. "With timely access to care for every woman or man affected by this disease, we can reduce breast cancer deaths by as much as one-third," she said. "This is such a great way for families to find a cause they care about and to do good together while having fun."
The Kids Zone is sponsored by Lesser, Lesser, Landy & Smith, and has animal exhibits and activities from the Palm Beach Zoo, Busch Wildlife and the Loggerhead Marinelife Center, which will host an interactive fishing activity.
The South Florida Science Center will provide science-themed fun, including a plasma ball demonstration. Palm Beach Moms will have a slime center, Luv 2 Play an interactive booth, BAM Festival will have pink flamingo crafts and there will be a fun run obstacle course, a toddler animal combo, giant yard pong and enormous horseshoes, as well as oversized Connect Four and Legos.
Want to pink out for the theme? Kids can step up their game and get their faces painted while meeting the beautiful Princesses Against Cancer and enjoying special character meet-and-greets provided by All Kids ENT. At 10:15 a.m., Komen will unveil the recipients of the kids art T-shirt contest, who were selected from area schools and will have their designs on the back of the kids' race shirts.
In addition to the Kids Zone fun, children ages 5 and under are invited to participate in the Tots Run for the Cure at 10:30 a.m. at the corner of Flagler and Evernia Streets. Children ages 6 to 12 are invited to participate in the Kids Run for the Cure taking place at 10:45 a.m. in the same location.
Known as South Florida's "first responders to breast cancer," Watt said Komen Florida's 360-degree approach to fighting the disease across all fronts focuses on improving access to care, especially for low-income and uninsured women, women of color and other vulnerable populations, while providing comfort, assurance and compassionate support.
Funds raised during the event will support Susan G. Komen's goal to reduce the nation's 40,000 breast cancer deaths by 50 percent by 2026. Seventy-five percent of net proceeds from the race will remain local to provide breast health education and breast cancer screening and treatment. The rest will support the Susan G. Komen Research and Training Grants Program, which funds groundbreaking breast cancer research awards and educational/scientific programs.
With the goal to raise $1 million in 2020, the race is symbolic of Komen Florida's commitment to ensuring that no woman — or man — ever walks alone on the breast cancer journey. The family-friendly event is a fun opportunity for runners, walkers, corporate, community and school teams and individuals.
This year's event will be chaired by WPTV's Tim Allan "T.A." Walker, with WPTV's Toni May serving as co-chair.
National sponsor of the 2020 Komen South Florida Race for the Cure is Bank of America, with South Florida Ford serving as local presenting sponsor. Premiere sponsors include 97.9 WRMF, X102.3, New Country 103.1, Sunny 107.9, Party 96.3, Fox Sports 640 AM, 850 WFTL and WPTV. Platinum sponsors include the Sylvester Comprehensive Cancer Center, the Good Samaritan Breast Institute and Tropical Shipping. Diamond sponsors include FPL, Comcast, College Hunks and Knight Electric.
Visit www.komenflorida.org/race to register. Registration fees start at $35 for adults and survivors, $10 for youth (under 18) and $45 for virtual participation. Fees will increase an additional $5 the day of race. To learn more, call (561) 514-3020, ext. 20, e-mail race@komenflorida.org or visit www.komenflorida.org/race.