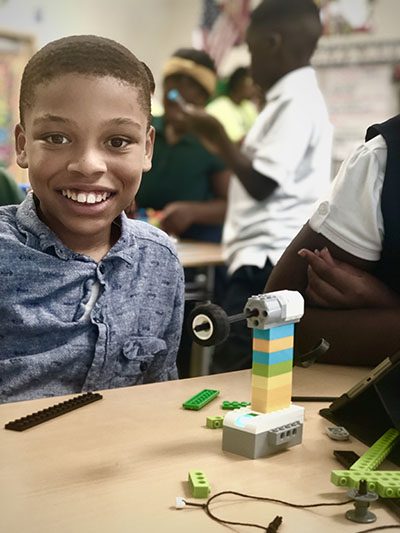 The South Florida Science Center & Aquarium was recently awarded a $100,000 grant through the Stiles-Nicholson Foundation to help increase STEM education for Palm Beach County students, galvanizing the community around a common goal to expand local FIRST robotics programs.
This award is an addition to a recent $50,000 STEM Equity Community Innovation Grant received by the Palm Beach County School District from FIRST, the world's leading youth-serving nonprofit advancing STEM (science, technology, engineering and math) education.
Working collaboratively, the Palm Beach County School District, the South Florida Science Center & Aquarium and Green Mouse Academy have already begun to implement an innovative FIRST Lego League program expansion for students from pre-K through grade four, which will provide robotics equipment labs, curriculum, certified training and ongoing job-embedded coaching for teachers and afterschool programs at multiple local elementary schools, allowing 750 more students and 12 elementary schools to discover hands-on, STEM robotics through project-based learning as they research and explore a real-world challenge.
This year's FIRST global robotics theme challenges students to imagine and create a building that solves a problem and makes life easier, happier or more connected, and then use Lego robotics to design and program their Boomtown Build.
"At the Science Center, we want to open every mind to science, and we are grateful to our partner organizations for making this happen, and we are proud to be a host for this incredible program," said Kate Arrizza, CEO of the Science Center.
FIRST (For Inspiration and Recognition of Science and Technology) continues to grow in Palm Beach County, engaging more than 3,000 students annually through age-appropriate afterschool learning opportunities and local competition teams. Leadership and support from the local community is a key reason that Palm Beach County was selected to receive this highly competitive grant, joining eight other winning communities from more than 270 applicants nationwide.
"With the generous local funding received from the Stiles-Nicholson Foundation and the leadership support of the South Florida Science Center and of the school district's Department of Teaching & Learning K-12 STEM Team, we expect to see a significant impact on the local community, and we hope to see this project serve as a model emulated throughout the country," said Shane Vander Kooi, president of Green Mouse Academy.
The project seeks to test several innovations designed to engage more students, teachers and schools. It also seeks to bridge applied learning experiences that occur informally at community locations, like the South Florida Science Center, with formal classroom instruction provided during the school day.
"According to the latest 2018 PISA report on international student assessment, the United States ranked 18th out of 77 nations in science literacy and China ranked #1. We can do better," said David Nicholson, founder of the Stiles-Nicholson Foundation. "We need to encourage more students to pursue STEM careers. FIRST Robotics is fun, project-based learning, which motivates youngsters to learn more about science and consider it as a career. The FIRST Lego League program stimulates excitement, engagement and team-building while teaching students the needed skill sets of tomorrow."
A key aim of this grant is to support communities with underserved and underrepresented students and help them develop new, innovative approaches to tackle the education gap. Over the long-term, this will not only address the STEM education needs of students but develop a local pipeline of talent and help position the future community workforce for success.
"We need kids of all backgrounds, capabilities and social circumstances to contribute to innovation and participate in addressing the world's toughest challenges," said Donald E. Bossi, president of FIRST. "We hope that these resources enable underserved and underrepresented students to realize their full potential and have the self-confidence to do anything they set their mind to."
The mission of the South Florida Science Center & Aquarium is to "open every mind to science" and in addition to its fresh and saltwater aquarium and new Fisher Family Science Trail, the indoor/outdoor venue features more than 100 hands-on educational exhibits, a digital planetarium, conservation research station, Florida exhibit hall, the pre-K focused Discovery Center, an interactive Everglades exhibit and the 18-hole Conservation Course — an outdoor putting course with science-focused education stations. The newest addition includes a $2.5 million permanent exhibit, "Journey Through the Human Brain" and features the most advanced neuroscience research and technology in the world.
The South Florida Science Center and Aquarium is located at 4801 Dreher Trail North in West Palm Beach. For more information, call (561) 832-1988 or visit www.sfsciencecenter.org.