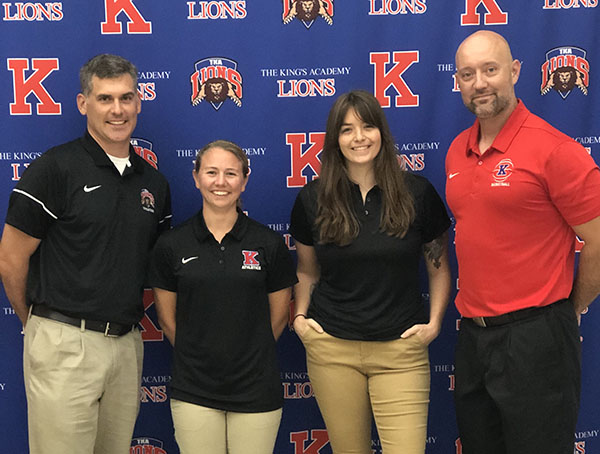 The King's Academy girls lacrosse program was founded just five seasons ago and immediately tasted success.
Under the leadership of coach Brett VanAlstyne, who has won an array of championships in Florida high school lacrosse, girls lacrosse at TKA won its first district championship in its first year of post-season eligibility. It then won its second district championships 24 months later.
In true championship fashion, the program is not resting on its success, but rather planning for an exciting future.
TKA's Athletic Department and its girls lacrosse program recently announced the addition of Kirstin Purdy and Paige Bennett to the varsity lacrosse coaching staff.
Purdy played high school lacrosse at Park Vista High School and club lacrosse with SOFLA and the Lax Maniax. After high school, she was a member of Jacksonville University's NCAA Division I women's lacrosse program while earning a degree in occupational therapy. While in college, Purdy joined the Lax Maniax as a coach and has helped many players achieve their goals of reaching their potential and playing in college.
Bennett played high school lacrosse at Park Vista High School and played club lacrosse for SOFLA. After high school, she enrolled at Liberty University and earned a degree in religious studies. She then earned a law degree from the Florida International University College of Law. Bennett is a member of Family Church and is active in her church's youth and small group programs.
"I am thrilled to welcome Paige and Kirstin to the King's Academy," Athletics Director Dr. Chris Hobbs said. "It is humbling to see how former players are now emerging as coaches and are ready to train the next generation of competitive players. Both Kirstin and Paige were part of a team that was regularly making the FHSAA Final Four and producing some of the top lacrosse talent in the state. They have a strong faith and are passionate about lacrosse."
Hobbs sees great things ahead for the program.
"Coach Van's leadership, and now his ability to bring former players back to lead with him, is evidence of how strong the culture is in our girls lacrosse program," he said. "Our student-athletes will have an amazing experience in this program."
TKA's Athletic Department provides student-athletes an excellent athletic experience. A member of the Florida High School Athletic Association, the Lions have claimed 124 district titles, 42 regional titles and 40 individual and team state championships. TKA student-athletes have gone on to successful collegiate athletic careers at some of the most accomplished universities in the country, as well as professional athletic careers in baseball, basketball, football, soccer and volleyball. Learn more at www.tkalions.net.