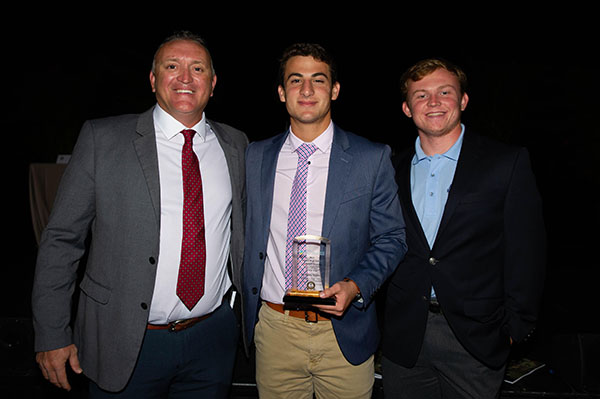 The 2019 Lou Groza Award Banquet took place Monday, Dec. 9 at the Kravis Center in downtown West Palm Beach. Coming home with the high school placekicker of the year award was Wellington High School senior Morgan Suarez.
The event is in its 28th year and is presented by the Orange Bowl Committee via the Palm Beach County Sports Commission, the Lou Groza Committee and ESPN's Jason Pugh, who served as master of ceremonies.
Suarez was met with strong competition in Bernie Cute from the King's Academy and Tron Rhodes from Berean Christian School. Suarez was a nominee at last year's event as a junior but stood alone on his statistics for the 2019 season.
One of the most consistent kickers in the county this season, Suarez racked up 11 field goals. His most impressive accomplishment was going a perfect 10-for-10 inside the 50-yard line. Likely his most notable was a 50-yard field goal in the rain in an overtime victory over Glades Central High School. In that contest, he also put a 27-yarder through the pipes to force the overtime and a 22-yarder in the extra quarter.
Suarez's longest attempt was a 58-yarder at the end of the season that fell only a couple of yards shy of making it through the uprights. "I've been working for this since I've figured out what it was," Suarez explained. "I definitely did what I set out to do, and then some. I felt like I executed well this year, and I have to give thanks to my long snapper and holder. I'm nothing without them."
Patrick Tobin, also a senior for the Wolverines, was the long snapper, and Josh Brown, a sophomore, was the holder. The trio operated like a well-oiled machine on the gridiron when it came time to put up the extra points and field goals. Suarez also attributed much of his success to his trainer Tony Bugeja from 4th Down Solutions.
Suarez is in good company, with other Wellington alumni also Lou Groza winners, which seems to be a long-established culture for the Wolverines. Alex Ng was the first recipient in 2014 and kicked for Valparaiso University. Logan Robinson won in 2016 and now kicks for the Seahawks at Keiser University. "I look up to them every time I kick," Suarez said. "I've trained with them, and they've basically been like father figures to me in a sense of kicking."
Longtime Wellington head coach Tom Abel believes that the kicking game is an integral part of the offense. "It means everything to the program," he said. "Those young men are an essential part of our offense. I consider them offensive players because anytime you can kick a field goal from 50 and in, and score points, not too many teams have that, especially in high school."
With three Lou Groza winners having worn the Wolverine colors, it's no wonder opposing teams expect that an onside kick is on the way, and still, the Wolverines have a high recovery percentage.
"Kicking off the ball constantly in the end zone and having opponents try to go 80 yards and try to score a touchdown was huge for our program," Abel said. "Plus, everybody knows we're onside kick specialists."
New to the Lou Groza banquet was Wellington Mayor Anne Gerwig, who came out to support the school's football program.
"I had always wanted to come. I had heard a lot about it. The Sports Commission promotes it very well, and I'm just proud to be here tonight with these young men," Gerwig said. "It's something to be proud of. We've had a few stars coming from Wellington High School, but mostly we've seen a group of people who just really worked together, and this coach is really behind his kids. I'm just proud to be a part of this tonight."
Suarez will graduate in the spring and continue with his recruiting process with the assistance of Abel. Winning the Lou Groza Award will likely increase his value to universities that are looking for a consistent and accurate kicker.