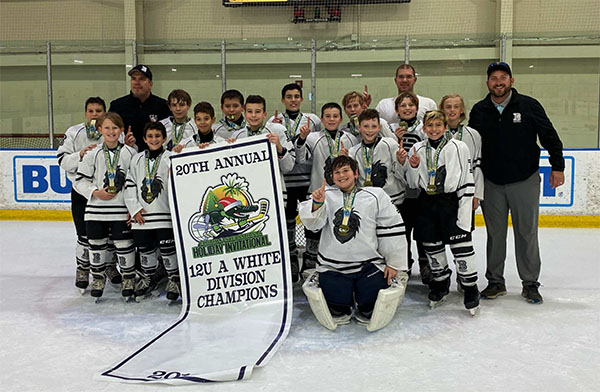 Acreage resident Max Pedraza's travel team, Barwis HC, recently defeated the Florida Alliance Girls 12U Elite Tournament team for the 12U A White Division Championship at the Hertz Arena in Estero by a score of 4-1. The tournament, known as the Florida International Holiday Invitational, is in its 20th season and is officially recognized by USA Hockey.
Barwis HC took 42 shots on goal, while the Alliance took 14 shots on goal. Pedraza's play at defenseman was pivotal in limiting the Alliance team's ability to score. His line did not allow any goals during the entire tournament.
Barwis HC allowed only six goals the entire regulation tournament play for final scores of 6-2 ,7-2, 6-1 and 7-1, sweeping the division heading into the final game. Barwis HC will take home the winning banner to be displayed at their home rink in Pompano Beach with all players names honored.
Pedraza ended an incredible year with his favorite NASCAR driver, Kyle Busch, taking home the 2019 NASCAR Championship. Pedraza was at the NASCAR championship race at Homestead in November and given post-race celebration passes from a fan sitting nearby.
Pedraza continues his high honors classes at Renaissance Palms West and is working toward acceptance into the math, science and engineering program at Suncoast High School. He needs to complete rigorous mathematics courses in addition to regular school studies to qualify for acceptance.