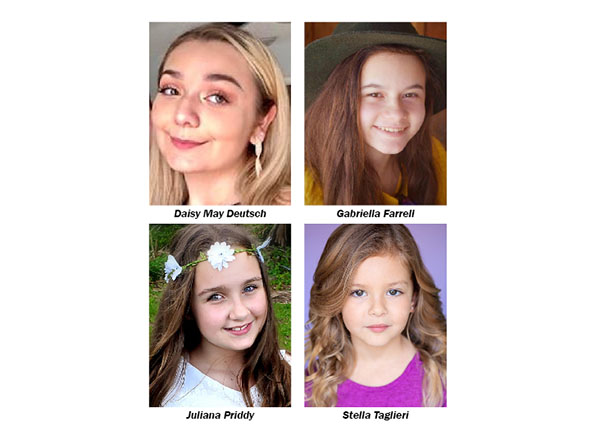 A group of youngsters from the local area are coming together to present a musical adaptation of Roald Dahl's James and the Giant Peach. Staged by Theatre Arts Productions (TAP), this show will run from Friday, Jan. 10 through Sunday, Jan. 12 at Wellington High School.
Based on the classic children's book of the same name, the show tells the story of a young boy and his human-sized insect friends as they travel across the ocean in an oversized peach.
Juliana Priddy, 11, of Wellington, takes on the role of Spider. A fifth grader at Equestrian Trails Elementary School, Priddy is no stranger to the stage. She has competed in various singing competitions in South Florida, including Wellington Idol. She has even sung the national anthem for the Palm Beach Cardinals, Jupiter Hammerheads and at Marlins Park.
Daisy May Deutsch, 16, of Royal Palm Beach, plays Aunt Sponge. A junior at the Dreyfoos School of the Arts, Deutsch is studying musical theater. Having previously played roles like Elle Woods in Legally Blonde at the Lake Worth Playhouse, Deutsch enjoys the challenge of playing a more villainous character role like Aunt Sponge. While she still hopes to continue performing, Deutsch wants to pursue a career in medicine.
The youngest performer in the show's ensemble is six-year-old Stella Taglieri, also from Wellington. A first grader at Elbridge Gale Elementary School, Taglieri has a passion for music, hoping to become a music teacher when she grows up. At the moment, her favorite artist is JoJo Siwa.
Gabriella Farrell, 16, of Loxahatchee, takes on a unique role with James and the Giant Peach. Despite her young age, Farrell is taking on the position of assistant music director. In this position, Farrell is responsible for teaching voice parts to a cast ranging from ages 6 through 79 with varying levels of musical experience.
Farrell handles this challenge gracefully and maturely. "You always have to play the weakest link, but you also have to let the people who really know what they're doing shine through," she explained.
A vocal major at Dreyfoos, Farrell hopes to establish her own music studio as a teacher.
The production will be staged by TAP's founding artistic director Jaycie M. Cohen. The 22-year-old Stetson University senior previously staged Disney's The Lion King Jr. with TAP this past summer. TAP's mission is to create a professional and giving atmosphere where developing and established actors learn more than just lines in a script. TAP aims to produce mainstage-style shows, with full-scale scenery, costumes and lighting.
Showtimes are Friday and Saturday at 7 p.m., Saturday at 1 p.m. and Sunday at 4 p.m. Tickets are $25 and can be purchased by calling (561) 723-6154 or sending an e-mail to tapstars.info@gmail.com. Wellington High School is located at 2101 Greenview Shores Blvd.