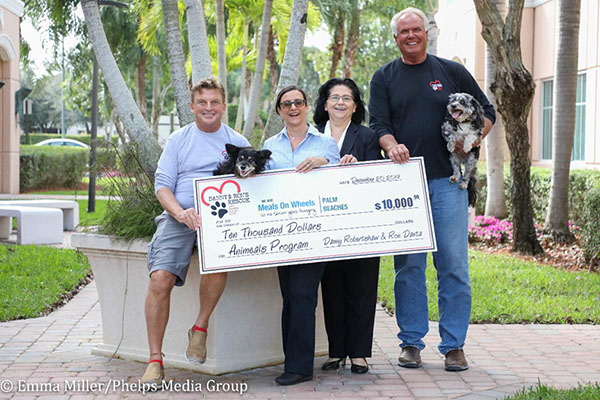 At the conclusion of a successful year for Danny & Ron's Rescue, founders Danny Robertshaw and Ron Danta recently had the opportunity to give back to their local community just in time for the holiday season. This year, they donated $10,000 to Animeals on Wheels, an extension of Meals on Wheels of the Palm Beaches. The rescue is excited to help animals get the nutrition and veterinary care they need.
"The seniors who are served by our Animeals program often face decisions that no one should have to make," said Pam Calzadilla, executive director of Meals on Wheels. "They are making the choice between affording food, medical care/prescriptions or feeding their beloved pet. We are so grateful to Danny & Ron's Rescue helping to make sure they don't have to make that choice."
A nonprofit organization designed to enhance the lives of the homebound in the local community, Meals on Wheels of the Palm Beaches provides nutritious midday meals to those who are unable to prepare their own or live alone. Meals on Wheels functions independently of government funding, relying on volunteers and donations from local residents, corporate partners and foundations.
"Starting now during the holiday season, loneliness, stress and financial worries are abounding," Robertshaw said. "We hope to keep pets in the homes they love with the people who love them."
Robertshaw and Danta are happy to donate back to those in need following the outpouring of support they received since the release of their feature documentary, Life in the Doghouse, on Netflix and other platforms this year. Receiving support from viewers all around the world, Danny & Ron's Rescue has had the opportunity to spread the word about their mission and expand the ways in which they help dogs in need like they never have before.
"Danny and I realize that far too often, a pet is the only source of love and comfort for seniors. We want to work with Meals on Wheels to ensure that their clients do not worry about the cost of keeping their animals with them," Danta explained.
The money donated to Animeals on Wheels will provide food and veterinary care to seniors in need with animals. Offering freshly prepared, nutritious meals five days a week to participating residents in the county, the program is vital to many in the community.
"As the newly appointed executive director and a new community member of the Palm Beaches, I am beyond thrilled that my first directive is to help seniors and their pets of my new community," said Nukhet Hendricks of Danny & Ron's Rescue.
The donation will also assist with the substantial veterinary costs associated with caring for pets young and old. The Animeals program is available for clients enrolled in Meals on Wheels of the Palm Beaches and has been faithfully serving the local community since 2010.
Danny & Ron's Rescue speaks for helpless animals that have no voice. For more info., visit www.dannyronsrescue.org or e-mail info@dannyronsrescue.org.