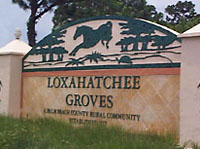 The Loxahatchee Groves Town Council heard plans Tuesday, Jan. 21 by Piquet Entertainment Park to redevelop the existing Hot Shots Paintball property at 16169 Southern Blvd.
Council members expressed openness to the plan, as long as it did not violate noise and lighting codes.
The proposal would require a large-scale land use plan amendment, rezoning and development of a major site plan.
Maria Christina Natanson, representing Piquet Entertainment Park, said the proposed entertainment complex would have family-friendly uses, including bowling, a roller rink, go-carting, rock climbing, arcades, laser tag and restaurants, as well as a picnic area around one of the two water bodies on the site and a community room for use by residents.
Natanson said the owner, Nelson Piquet, is a former Brazilian racecar driving champion who also works with recognized race-track designers. She added that the developer will work to preserve trees and water bodies on the property.
Joni Brinkman with Urban Design Kilday Studios said her firm is working with the developers to assist them through the process.
"You are all familiar with this property," Brinkman said. "It's about 19.5 acres, and it's located in the southwest boundary of the town's borders. Duck Puddle Farm is to the north with Palm Beach State College to the east, and to the west is unincorporated Palm Beach County."
The current zoning is commercial recreation, carried forward from county zoning before the town incorporated, although the town's land use designation is rural residential with one housing unit per five acres.
"Obviously, it is an existing paintball facility," she said. "We have met with town staff, and as this property does not have a land use designation associated with it right now that would allow for the commercial recreation to be developed further in your town, we would have to process a large-scale land use amendment, which requires that it be transmitted to the state for review. When it comes back, we would have to process a rezoning and also a site plan approval, which most likely would be a commercial planned development."
Brinkman said the developer plans to comply with all the town's regulations, including noise, lighting, setbacks and vibration.
"It will be a somewhat complicated project from a planning standpoint, but nothing that your code wouldn't allow," she said. "The commercial designation that we propose would allow the uses that we envision for the site."
Natanson said the first draft of the proposal preserves most of the trees on the property. The main building would be teardrop shaped, reminiscent of teardrop-shaped racing helmets, and surrounded by the racetracks.
She said the park would have communitywide benefits and generate revenue for the town. The value of the finished park would be about $13 million. She added that the park would utilize solar panels and make use of rainwater and ecologically friendly air conditioning.
"We're trying to preserve all the wetlands and mitigate impact on the vegetation," Natanson said, adding that the facility plans to have about 80 people working there upon opening and about 120 by the fifth year.
The entertainment park plans to have around-the-clock security and access to non-park areas will be restricted.
Lighting will be in compliance with town code requirements to avoid spillover to surrounding areas, Natanson said, adding that operation of the park will be from 10 a.m. to 11 p.m. in compliance with the town code. The developer plans to hire a consultant to make recommendations for noise control.
Mayor Robert Shorr pointed out that the town's noise ordinance changes at 10 p.m. from 55 decibels to 50 decibels.
Natanson said the go-carts can be equipped with mufflers that reduce the noise 50 percent.
"It lowers the noise so it will be less than 50 [decibels], so it will meet the requirements all day long," she said. "If not, we will look at other options."
Councilwoman Laura Danowski thanked the developer for being conscious of the wetlands, preservation of trees, using ecologically friendly building concepts and working within the space that is already there.
"It means a lot to me for somebody who wants to come into our town and be a good neighbor," Danowski said.
Councilman Dave DeMarois said he liked the idea of providing recreation for residents and the surrounding area, and especially providing more tax revenue for the town. "Our citizens pay the taxes, but it's nice when commercial absorbs some of that tax money," he said.
Councilwoman Lisa El-Ramey said she was concerned about light pollution.
"You seem to be very aware of it. That and the sound will be the two biggest hurdles for residents," El-Ramey said.
Town Manager Jamie Titcomb said the concept of holding workshops where developers can present their ideas to the council before going through the approval process appears to be working well.
"It's important to get early feedback from the council and the community as to whether something could fly or where the pitfalls are and help steer them as to whether or not they want to bring forward a full proposal and take into consideration all the things that are important to the town's vision, as well as all the technical and legal constraints that they might have to deal with," Titcomb said.
Shorr asked how long it would take to get the project going. Planning consultant Jim Fleischmann said a large-scale comp plan amendment will require two readings and will need to be sent to the Florida Department of Economic Opportunity, as well as the Treasure Coast Regional Planning Council, the South Florida Water Management District, the Florida Department of Transportation and other agencies for comments in between first and second reading.
"It's possible that they could bundle several applications all at once," Fleischmann said. "I always tell people that if they're coming in for a large-scale amendment, they should plan a minimum of six months, and it would probably be longer than that. I would say six to nine months, if they bundle all the applications."
After that, the applicant must get building permits.
"It could be 18 to 24 months before anything is actually going on there," Fleischmann said.
Natanson said actual construction would take about one year.