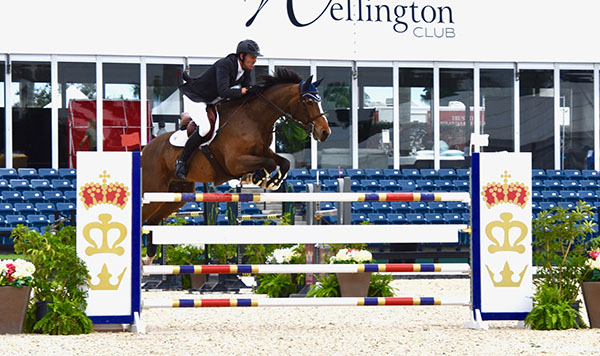 Jonathon Millar and Valinski S captured first place in the $10K Triple Crown Open Stake Class in December — fittingly, on National Horse Day — during a holiday show hosted at the Palm Beach International Equestrian Center in Wellington.
Millar and the Dutch Warmblood gelding, owned by Wyndmont Farm of Loxahatchee, won after competing in the jump-off with a time of 34.304 seconds.
Millar, who is based out of Ontario, Canada, said the 17-year-old bay is a "super competitive horse."
"He has a ton of experience, so it's just about us getting to know each other," Millar explained. "It's great winning the $10K Triple Crown Open Stakes with Valinski. Every week we're getting to know each other better and better. He's a wonderful horse. Thank you to Wyndmont owners Ronnie Beard and Michael Dorman."
Millar is the son of 10-time Canadian Olympian Ian Millar. Team Millar is still winning top competitions, as not only does Jonathon compete, so does his sister, Amy Millar.
Valinski S is an outstanding horse, having competed in the individual final at the 2016 Olympic Games at Rio de Janeiro, along with a string of wins and top finishes winning many show jumping competitions.
As the official feed sponsor of the U.S. Equestrian Federation, Triple Crown Nutrition continues to recognize and support equestrian events like the $10,000 Triple Crown Open Stake. The renowned feed company was the first to add prebiotics, probiotics and organic minerals to horse feed, and continues today to deliver key advancements in equine nutrition. In addition to sponsoring at the ESP Holiday Circuit, Triple Crown Nutrition is also a sponsor at the 2020 Winter Equestrian Festival and the 2020 Adequan Global Dressage Festival. Learn more at www.triplecrownfeed.com.