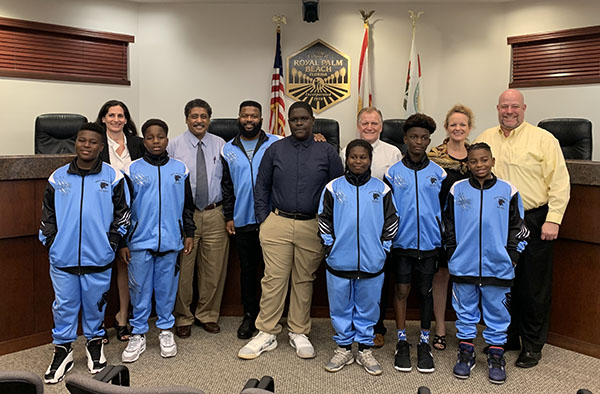 The Royal Palm Beach Village Council began its first regular meeting of the new year on Thursday, Jan. 16 by taking a moment to honor the Royal Palm Beach Wildcats youth football team. The team captured the U12 Pop Warner National Championship for the second straight year.
"We get to do something that we had the pleasure of doing about a year ago, and that is to recognize the 2019 Pop Warner national football team champions," Mayor Fred Pinto said. "This is becoming a dynasty. It's challenging for you because you have young people who come in and move up in age, and you have to back fill."
The Wildcats were undefeated in the regular season this year, and they followed up the postseason with a perfect record as they marched to claim the 63rd Pop Warner Super Bowl in Orlando.
The team beat the Oak Cliff Titans of Texas, Orlando's Pine Hill Trojans and claimed the trophy after toppling the Stratford Redskins of Connecticut.
Coach Samuel Curry stepped up to recognize his coaching support staff, who were unable to attend. "Our goal is to repeat next year — three-peat!" Curry said.
In other business:
• Village Manager Ray Liggins announced an upcoming public input meeting on Thursday, Feb. 13 regarding the conceptual design for a new village hall building.
"We've got the architect under contract. Staff has met with them, and they are preparing some drawings for this meeting," Liggins said. "It will start at 6:30 p.m. at the Royal Palm Beach Cultural Center."
The format will involve stations with boards and information laid out for residents to see, and a presentation by the architect will take place at approximately 7 p.m. The meeting is similar to the one held before the redevelopment of the Cultural Center.
• The council reviewed a new ordinance that would streamline the permitting process for seasonal vendor permits, such as Christmas tree sales, and allow applicants 45 days instead of 30 days to send in the request.
• Councilwoman Selena Samios discussed the council members' recent trip to Tallahassee to meet with state legislators. She noted that approval for the village's funding request has cleared the House and is awaiting its final appropriation from the Senate.
• The annual Mayor's Golf Tournament is scheduled for Saturday, Feb. 1. Proceeds raised from the event are used to help fund the 10 scholarships to be awarded this spring. The tournament begins with a shotgun start at 8 a.m. at the Village Golf Club, and the village is looking for additional foursomes to sign up. For more info., call (561) 790-5124.
On a related note, this year's scholarship applications must be postmarked by Friday, Feb. 14.