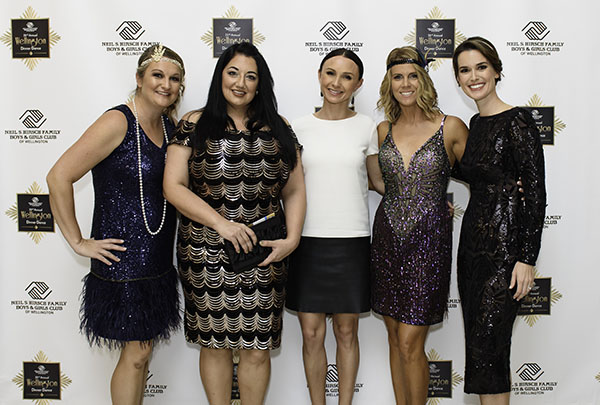 A beautiful and clear evening was the backdrop for the 32nd annual Wellington Dinner Dance, which raised more than $230,000 for the Neil S. Hirsch Family Boys & Girls Club of Wellington.
Selling out for three consecutive years, the event is the club's largest fundraiser and took place on Friday, Jan. 10 at the Wycliffe Golf & Country Club. Festivities kicked off with a speakeasy-inspired cocktail reception with butler-passed hors d'oeuvres, Cirque Dreams performers and a silent auction.
The "Roaring Twenties" theme was carried onto the ballroom, where striking centerpieces featured peacock feathers with jeweled chandeliers and various upcycled glassware adorned with orchids and hydrangeas.
"The 32nd annual Wellington Dinner Dance was the best one yet. From the start, our fantastic committee planned every little detail, and it showed the entire night. I'm looking forward to year 33 and seeing what's next for this event that supports such deserving kids," Advisory Board Chair Nicolette Goldfarb said.
Jaene Miranda, president and CEO of Boys & Girls Clubs of Palm Beach County, welcomed guests, who enjoyed a short dance routine presented by club members, followed by a professional performance by Fred Astaire dancers before a dinner and live auction. Band Hyryze later brought guests to their feet.
Goldfarb thanked supporters, event chairs and committee members, followed by remarks from Sheriff Ric Bradshaw and State Attorney David Aronberg regarding their agencies' support of the club and the community.
Coming together as co-chairs were Georgina Bloomberg, Josh and Consuelo DeTillio, Hillary Dobbs, Dr. Richard and Julia Giroux, and Charlene and Chris Ramos. Honorary chairs were Dr. Edward and Maria Becker, Julie Khanna, and Julie and John Kime. Committee members include Nicolette Goldfarb, Susan Ferraro, Dr. Colette Brown-Graham, Julie Khanna, Julie Kime, Dr. Daxa Patel, Angie Payne, Tracy Priske, Char Ramos and Tawny Wolf.
The Boys & Girls Clubs of Palm Beach County provide afterschool programs and summer camp to more than 9,400 boys and girls from ages 6 to 18 throughout the county. Clubs emphasize educational, vocational, social, recreational, health, leadership and character-building skills in a positive and safe atmosphere. For more info., visit www.bgcpbc.org or call (561) 683-3287.