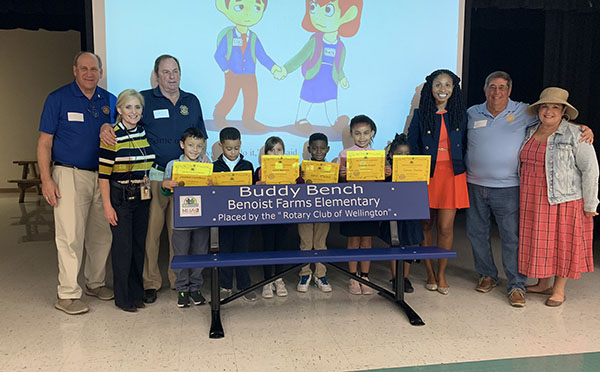 The Rotary Club of Wellington donated a "Buddy Bench" to Benoist Farms Elementary School on Tuesday, Jan. 14. A grand unveiling took place in association with Mental Health America of Palm Beach County, who was represented by Loverly Sheridan, author of "Be a Buddy, Not a Bully" and director of the Buddy Bench program.
The Wellington Rotary provided the funds to purchase the Buddy Bench and to provide for the on-going support program. On hand from club were President Don Gross, Maggie Zeller, Tom Carreras and Vice President Larry Kemp, who spearheaded the Buddy Bench program for the club.
The morning featured an enthusiastic presentation by Sheridan that was well received by the student body.
"Due to a wide variety of circumstances, some children might fall through the cracks and feel excluded and alone," Sheridan said. "When a child on the playground is sad, lonely or just having a bad day, by sitting on the Buddy Bench, trained Buddy Ambassadors and other kind children will stop by and see how they can help. A national success, the Buddy Ambassadors campaign fosters kindness and brings children together."
At the event, the school also honored the first group of student Buddy Ambassadors trained in the program.
"We are so grateful for our partners with Wellington Rotary," Benoist Farms Principal Ruthann Miller said. "This bench might be a difference maker to a struggling student as we try to help our children succeed."
Miller practices what she preaches, as she comforted new transfer student Giovanni Shanks, who shadowed her during the event preparations. "I want to be a buddy, not a bully," Shanks said.
Wellington resident Joy Green, a teacher with 21 years of experience, is delighted that the school now has a Buddy Bench. "My message to parents is not to tolerate abusive behavior," Green said. "Some parents think it's cute when their child acts obnoxiously. Talk to your kids every day. Ask them about bullying at school. Your child's welfare is much more important than work and all the other issues that keeps parents so busy."
Kemp was happy with the morning's proceedings. "I am so glad that I convinced Rotary to be part of this wonderful program where we helped facilitate a way that new or bullied students can find a buddy," he said.
For more information on donating a Buddy Bench to local schools, call Mental Health America of Palm Beach County at (561) 832-3755 or e-mail lsheridan@mentalhealthpbc.org. Visit www.mentalhealthpbc.org to learn more about the program.