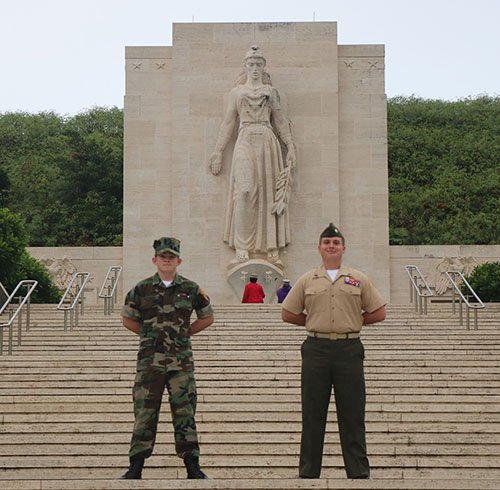 Young Marines from 20 separate units throughout the United States traveled to Hawaii to participate in the 78th anniversary Pearl Harbor Day Remembrance, including several from Palm Beach.
The Young Marines, along with the leadership of the American Legion, Marine Corps League Hawaii, Vietnam Veterans of America Hawaii, AMVETS Hawaii and the Best Defense Foundation performed a wreath-laying ceremony at the National Memorial Cemetery of the Pacific, the Punchbowl, in memory of all the brave men and women who are interred there.
A significant honor for the Young Marines was leading the Pearl Harbor Memorial Parade in Honolulu. Youth members of the Young Marines carried the banners of the 12 capital ships that were attacked on Dec. 7, 1941.
In addition, the Young Marines performed community service by cleaning up two beaches, Ft. Hase Beach and Pyramid Rock Beach at Marine Corps Base Hawaii.
"The Young Marines personally met five of the survivors of the attack on Pearl Harbor," said Col. William P. Davis (USMC, Ret.), national executive director and CEO of the Young Marines. "Those veterans are, in every sense of the words, living history, and each has a story to tell. It is an honor, and lasting memory, for each Young Marine to meet these veterans and memorialize the ones who are no longer with us."
Young Marines units raised funds at their local level to supplement the costs of traveling to Hawaii to attend the remembrance ceremonies.
Since the Young Marines' humble beginnings in 1959 with one unit and a handful of boys, the organization has grown to 264 units with 8,500 youth and 2,500 adult volunteers in 40 states, the District of Columbia, Japan and affiliates in other countries. For more information, visit www.youngmarines.com.