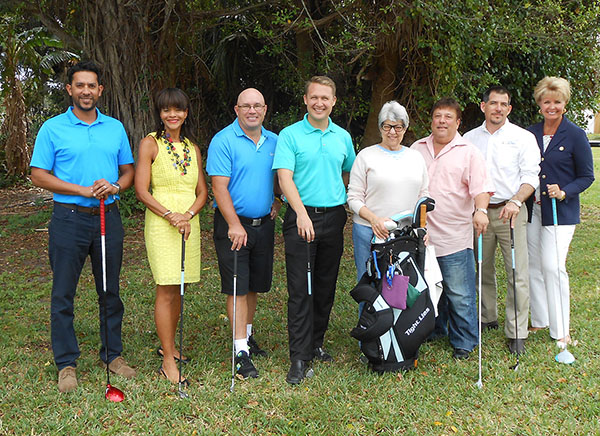 Clinics Can Help, the West Palm Beach-based nonprofit helping to enable access to healthcare to all through the donation of medical equipment and supplies, will hold its seventh annual Clinics Can Help Golf Classic on April 17 at the Wellington National Golf Club.
In addition to returning honorary chair and professional golfer Dana Quigley and chair CBS News 12 morning anchor Matt Lincoln, nine committee members — Pam Swensen, Andrea McMillan, Despina Hall, Vic Carlucci, Sally Chester, Myk Nelsen, Jon Levy, and Gil and Jennifer Martinez — are hard at work preparing for the organization's annual tournament.
Quigley was known as the "Iron Man of the Champions Tour" before his son, Devon, was paralyzed in a car accident in 2011. He took time off professionally after the accident to ensure Devon's care was exactly what would help him thrive. Clinics Can Help was a big part of that equation.
"Ensuring this type of medical equipment gets in the hands of children and families in their time of need has a tremendous effect on everyone involved," he said. "I was a proud recipient of equipment from Clinics Can Help for Devon years ago. It was truly lifechanging for him. I'm grateful for them being there in our time of need, and I am honored to continue to support the work of Clinics Can Help as it impacts the lives of a growing number of local residents."
Featuring a 1 p.m. shotgun start and fantastic prizes for closest to the pin, longest drive and hole in one, the day will offer something for everyone, including an exciting silent auction and fabulous food.
Proceeds from the event will support the Clinics Can Help Kinder Project, providing CCH adaptive equipment to children with special needs at no cost. CCH's Kinder Project has served more than 650 children in the community with equipment including adaptive bathing systems, pediatric positioning seating systems, adaptive transit strollers and other items for children with special needs.
The newly renovated Wellington National Golf Club is located at 400 Binks Forest Drive. The private club in the heart of Wellington features a completely restored, Johnny Miller-designed, 18-hole golf course. Individual tickets are available for $250 with foursomes priced at $900. For more information on sponsorships and foursomes, contact Maureen Ashe at maureen@clinicscanhelp.org or (561) 640-2995. Learn more about Clinics Can Help at www.clinicscanhelp.org.